NASJA White Mountain Summit: North Conway, New Hampshire, March 4, 2019
Members of NASJA (North American Snowsports Journalists Association) had the White Mountain Summit in New Hampshire in early March attracting 21 participants. Trip coordinator Roger Lohr commented, "It was a different type of NASJA meeting but it was exactly like my family ski trips where we enjoy different activities throughout weekend."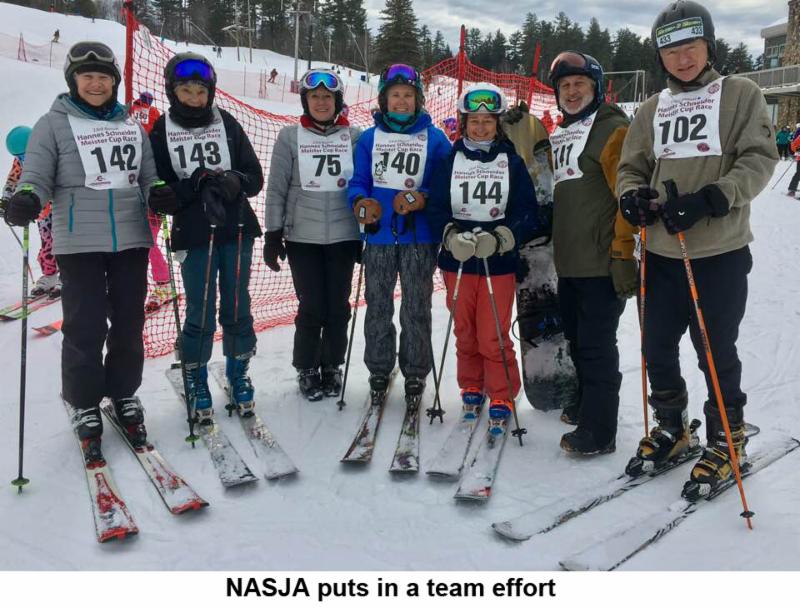 Activities ranged from a ride up the Mt. Washington Auto Road via a "SnowCoach" to a great day of skiing at Bretton Woods. NASJA organized different options to offer its writers a variety of potential stories. On the opening night, the group attended a reception at the newly opened New England Ski Museum's Eastern Slope Branch showcasing memorabilia ranging from antique skis to vintage ski pins. On Friday March 1, attendees visited The Glen House, a new hotel at the base of Mt. Washington. During a delicious lunch, the group listened to presentations about new cross-country ski technology and details on the new hotel's sustainability practices. Then it was time to hit the trails at the Great Glen Trails Outdoor Center cross country skiing with Olympian Sue Wemyss giving tips on how to be a better Nordic skier. Some participants tried snowshoeing and fat-biking.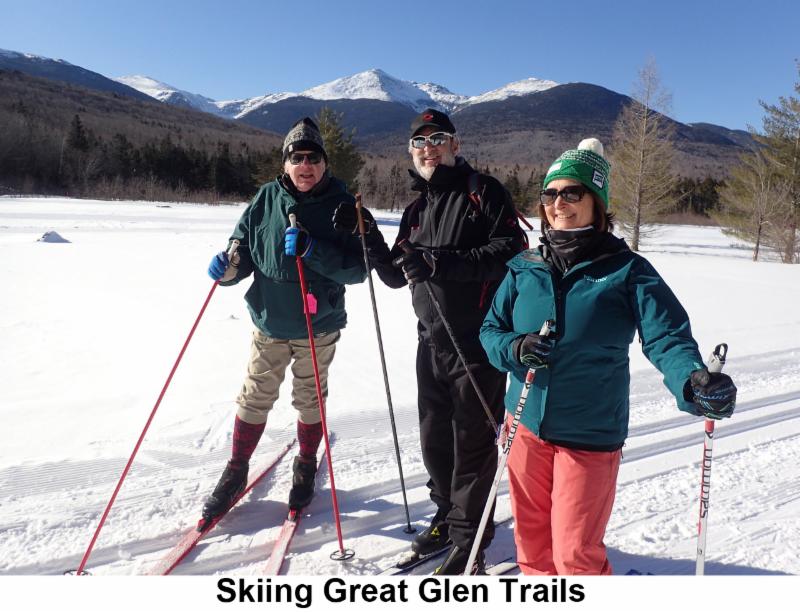 On Saturday, The Hannes Schneider Meister Cup race was hosted by the New England Ski Museum and Cranmore Mountain Resort in North Conway. An opening ceremony included Bavarian music as local legends spoke briefly about the importance of the annual event, now in its 23rd year. Cranmore's spokesperson Becca Deschenes referred to the Hannes Schneider event as "her favorite weekend of the winter!"
Many NASJA members raced in the main event and while not being a very competitive thing for NASJA participants, the incredible camaraderie between racers was very apparent. Roger Lohr won the 2019 Hannes Schneider Meister Cup 1st Place Snowboard. NASJA president Iseult Devlin had the fastest time among the members and BEWI Sports president Bernie Weichsel posted the most improved time between the two runs.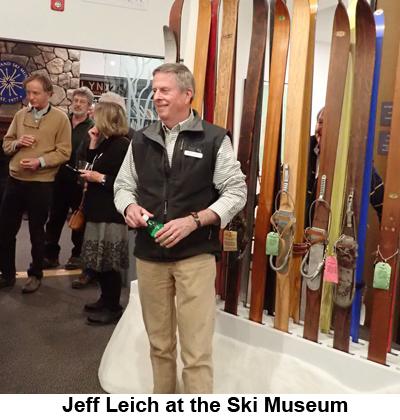 On Sunday March 3, NASJA member and author Jeremy Davis talked about his latest book, The Lost Ski Areas of the Berkshires. The morning stroll through ski history provided a great foundation for the final destination of the NASJA meeting on a short trip through the scenic Crawford Notch to Bretton Woods Resort. Once there, they got the lowdown on the construction projects already underway including the first 8-person gondola in N.H. and a new mountain top restaurant. The ski conditions were simply superb and enjoyed by all.
---
White Mountain Summit Media Coverage
Conway Daily Sun by Tom Eastman- https://www.conwaydailysun.com/news/local/today-s-schneider-cup-celebrates-valley-s-ski-heritage/article_96c74dce-3b87-11e9-b987-bb494fe84012.html
@XCSkiTravel Twitter feed on New England Ski Museum-https://twitter.com/XCSkiTravel/status/1101819113805090816/photo/1
@XCSkiTravel Twitter feed on SnowCoach –https://twitter.com/XCSkiTravel/status/1101843753369767937/photo/1
XCSkiResorts.com Hot Topics- http://www.xcskiresorts.com/hot-topics
Valley Voice by Tom Eastman- https://www.conwaydailysun.com/community/valley_voice/valley-voice-skiing-and-history-at-meister-cup-weekend/article_1a791624-3c51-11e9-98cf-9bb41e322f94.html
SeniorsSkiing by Mike Maginn on Fat Biking- https://www.seniorsskiing.com/mike-on-a-fat-bike-on-snow/
SnoCountry.com by Roger Lohr on Bretton Woods Resort- https://www.snocountry.com/news/entry/bretton-woods-resort-projects-update
XCSkiResorts.com on March 26, 2019 by Roger Lohr on XC Skin Skis- http://www.xcskiresorts.com/new-blog/2019/3/26/cross-country-skin-skis-will-improve-the-recreational-experience
TSIL article from March 5, 2019- https://nasja.org/about/meetings/white-mountain-summit-meeting-february-2019/journalists-join-festivities-at-hannes-schneider-meister-cup/
SeniorsSkiing by Tamsin Venn on Great Glen visit- https://www.seniorsskiing.com/at-great-glen-trails-nordic-skiing-and-activities-for-everyone/
Video on the White Mountain Summit by Don Burch- https://www.youtube.com/watch?v=oHYLVfwmvVU
Release on VisitWhiteMountains.com- https://www.visitwhitemountains.com/press/white-mountain-summit-nasja-greets-mt-washington
https://www.seniorsskiing.com/history-lives-at-cranmore-mountain/
SeniorsSkiing by Don Burch on Cranmore Mountain Resort-https://www.seniorsskiing.com/seniors-visit-cranmore-bring-grandchildren/
Social media content included Twitter postings from Great Glen, SeniorsSkiing and
Facebook postings from XCSkiResorts, NASJA (one boosted), Karen Cummings, and Learn to Ski Month.
Northeast Winter Weather Summit – December 2-3, 2018 – Stratton Mountain Resort
Winter Weather Summit – Making the Best of Winter
By Roger Lohr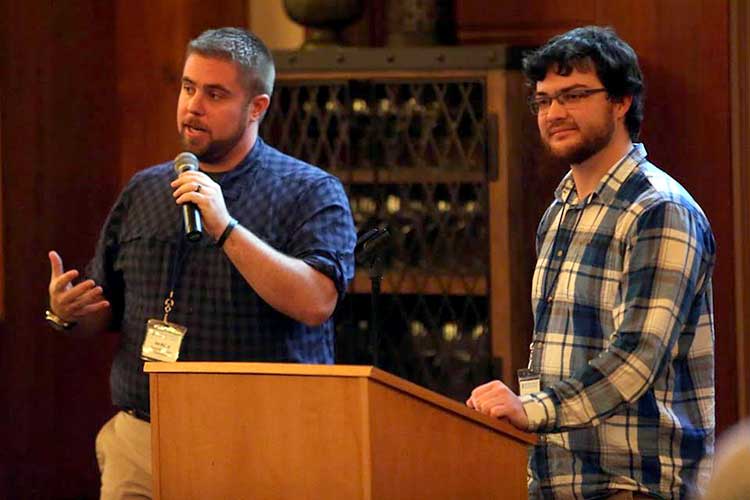 In a story posted by TSIL, the Northeast Winter Weather Summit, organized by the North American Snowsports Journalist Association (NASJA) with support from 19 other companies and organizations, saw meteorologists, ski resorts and media gather at Stratton Mountain, VT, Dec. 2-3 for the first of what many hope will be a continuing conversation between the various groups to provide information on making the best of winter.
Pictured above left: Keynote speakers Ian Bailey and Adam Gil (Mount Washington Observatory) share a glimpse into severe weather conditions atop Mount Washington.
The meeting brought together some groups and topics that don't normally occur at industry meetings and some lively discussions ensued. There were 70 people registered; roughly half of them meteorologists/media. New York, Massachusetts, Vermont, Maine, New Hampshire, Quebec, and Pennsylvania ski areas were among the states represented. The Weather Summit was supported by Mountain Travel Symposium, MountainGuard, Prinoth, HKD Snowmakers, BEWI Sports, Dion Snowshoes, and VFC (The North Face). The attending meteorologists were from Boston, Mt. Washington Observatory, Hartford, Albany, Altoona (PA), Skywatch, and WeatherNation to name a few.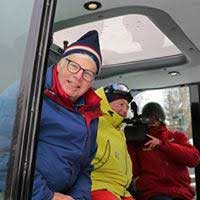 On Sunday Dec. 2, the opening seminar about "How To Dress for Winter Weather" by The North Face corporate rep Stan Kosmider was a big hit, with multiple questions from the audience about smart layering and technological advancements in snow sports apparel. Next, the Welcome Reception started with short introductions from NASJA President Iseult Devlin and welcome remarks from Stratton President Bill Nupp. The keynote presentation featured observers from the Mt. Washington Observatory, who gave a vivid picture of life on top of Mt. Washington, which claims the worst weather on earth (i.e., 231 MPH winds!). Did you know you can use a frozen banana as a hammer?
Eight lucky attendees joined Tim O'Neil, founder of the Team O'Neil Rally School at a Sun Bowl parking lot for some tips on driving in winter. O'Neil stated that his favorite position for driving was sideways, and demonstrated with some hot laps around the icy, slushy parking lot. Then participants got their turn, although not at quite the same velocity. On another part of the mountain, Vermont Lt. Governor David Zuckerman made an appearance to demo Vermont manufactured Dion Snowshoes and take a ride in the Prinoth snowcat. Zuckerman also addressed the group at lunch thanking them for coming to enjoy the incredible opportunities Vermont has to offer. He invited meteorologists to "be educators on how to tell people to dress for winter."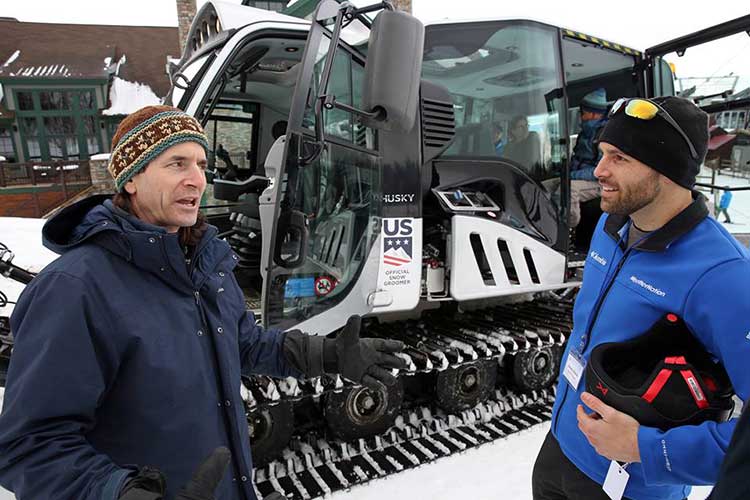 ---
Clips from Northeast Winter Weather Summit – December 2-3, 2018 – Stratton Mountain Resort
Iseult Devlin, Crowds hit new snow at Stratton Mountain for Great December start, North Jersey.com
Martha Wilson, New Snow Bowl Lift Headlines Stratton Improvements, SnowCountry.com
Iseult Devlin, How to dress for volatile winter weather, North Jersey.com
Martha Wilson, How Skiers And Riders Dress For Winter Weather, SnowCountry.com
Janet Franz, Weird Weather: Rethinking Ski Clothes For A Fickle Climate, SeniorSking.com
Nicole Feliciano, Dressing for Cold WeatherMom, Trends.com
Phil Johnson, Northeast Winter Weather Summit review, Daily Gazette
Dave Meeker, Inaugural Northeast Winter Weather Summit, Ski Area Management
Roger Lohr, Winter Weather Summit – Making the Best of Winter, NASJA Newsletter
Martha Wilson, Tips For Safe Winter Driving, Snowcountry.com
Michael Maginn, Winter Driving: Where's Your Car's TC Button? Senior Skiing
Lillian Eden, Sustainable Practices at Local Ski Areas, Green Energy Times
Ski Area Management Podcast Episode: https://saminfo.podbean.com/e/ep8-northeast-winter-weather-summit