Past Meetings
Feb. 11-12, 2020 – Ski Vermont Media Day –
On a recent media tour hosted by Ski Vermont and the National Snowsports Journalists Association, a group of 16 media visited Bolton Valley Resort and Trapp Family Lodge in northwestern Vermont.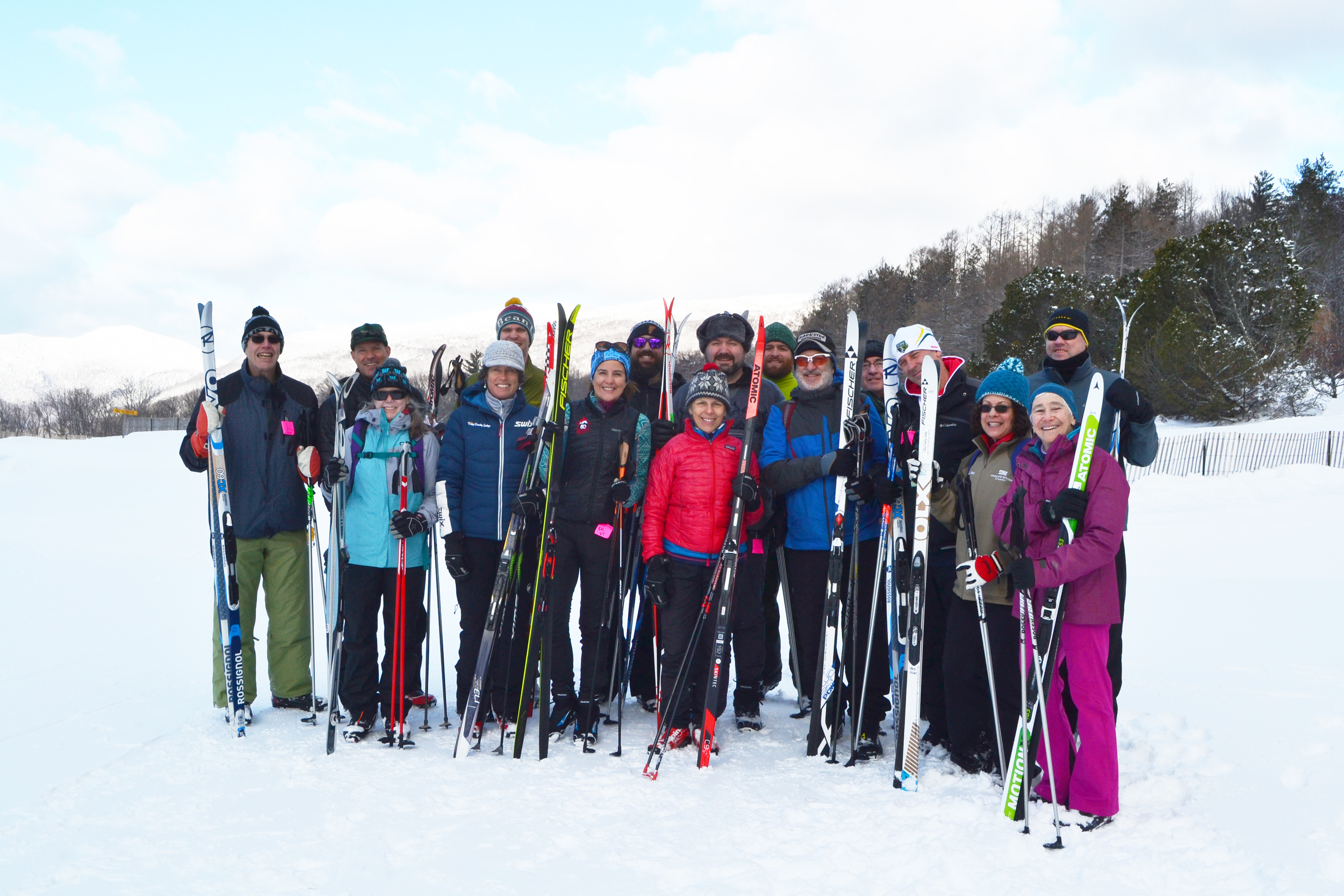 Here's a behind-the-curtain look at how some ski resorts promote themselves using the age-old "media fam tour."
The first day of the media tour was dedicated to backcountry skiing at Bolton Valley where there is a growing program on thousands of acres of backcountry terrain with trails and powder laden gladed mountainsides. Adam and Lindsay DesLauriers, who are the children of Ralph DesLauriers, the original developer of Bolton Valley, are now in charge of the resort operation, and they led the group on the tour.
Bolton had about two feet of fresh snow on the ground despite the fact that this year the snowstorms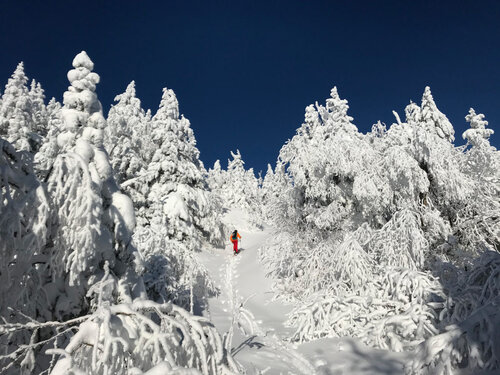 that have been consistently mixed with rain. When it comes to snow the 2,000 foot elevation at the base of Bolton Valley is an advantage that the resort has over other destinations in New England. Some of the media folks were experienced backcountry aficionados so they set off on an alpine touring trek while other media were equipped with backcountry gear and given an introductory clinic.
Later in the afternoon, some of the media folks hit the lifts and enjoyed the slopes at Bolton Valley and afterward the group met in the lodge and talked about their backcountry skiing experience. A reception was held and the media listened to representatives from Bolton Valley and a few other ski areas who talked about their respective resorts.
The following day, some of the hardier members of the media group set out at 6:30 in the morning with guides to ski the backcountry trek from Bolton to Stowe. The rest of the media met at Trapp Family Lodge to gear up for a tour of the trails guided by Sam and Kristina von Trapp, who are the grandchildren of Maria and Captain von Trapp (featured in the movie The Sound of Music). Sam and Kristina run the Trapp Family Lodge operation, which features the lodge, villas, the Outdoor Center and the von Trapp Brewery.
The cross country ski tour at Trapp's started at the Outdoor Center as the group was led up to the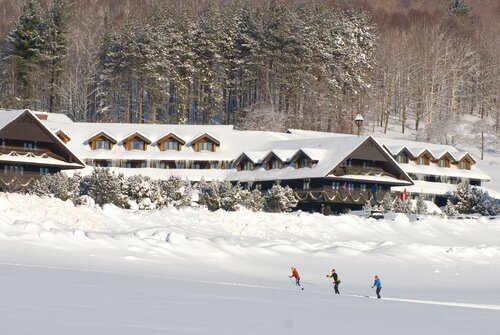 Slayton Pasture Cabin, which is a destination on the upper trails at the ski area. This rustic and cozy log cabin is the perfect rendezvous spot for lunch with family and friends to enjoy a seat by the fireplace or savor homemade soups, snacks, and sandwiches.
On the way back from the cabin (mostly downhill, which was a bit challenging for some of the media skiers), the group made its way to the Bierhall where everyone was treated to a selection of von Trapp beers and lunch. Johannes von Trapp, (Sam and Kristina's father), who is the last remaining child of Maria and the Captain (they had three additional children after they escaped Europe with the original seven kids) stopped by the Brewery to meet and chat with the media.
It was a busy and tiring two days in Vermont but the fresh snow and camaraderie were well worth the visit to Bolton Valley and Trapp Family Lodge to collect story ideas and memories.
Clips from Ski Vermont Media Day
Snowsports Media Visit Bolton Valley And Trapp Family Lodge by Roger Lohr
Topnotch At Stowe: Ski, Relax, Recharge by Tamsin Venn
What you Need to Know About Trying Backcountry Skiing by Nicole Feliciano
Alpine Backcountry Touring Primer In Bolton Valley by Tamsin Venn
Trapp Family Lodge: Some Favorite Nordic Things by Tamsin Venn
Meeting Video by Don Burch
---
Jan. 31, 2020 – NASJA Meet & Greet During Outdoor Retailer Snow Show –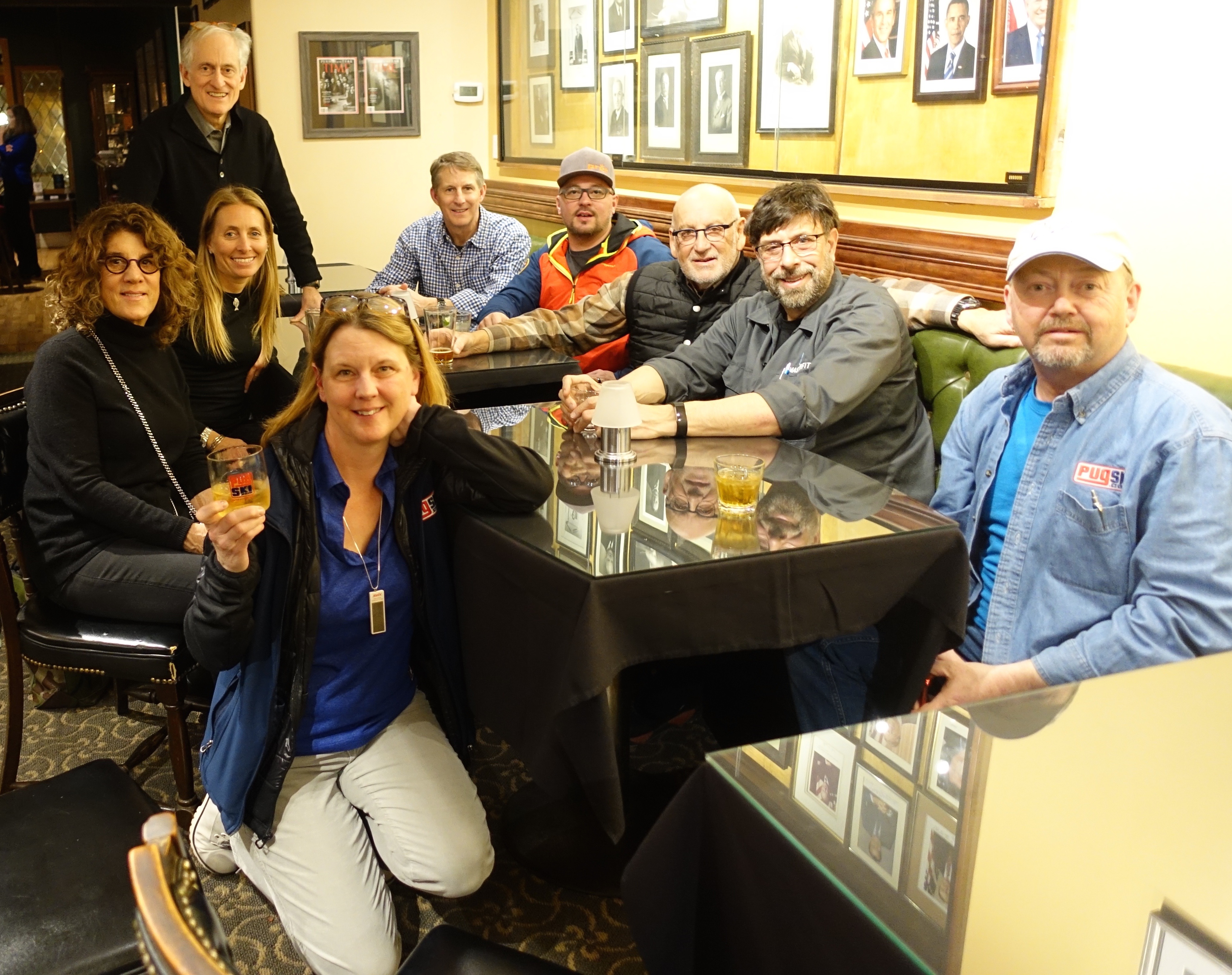 NASJA members and their guests meet for libations at the Denver Press Club on the closing day of the Outdoor Retailer + Snow Show in late January. Founded in 1867, the DPC is the oldest press club in the U.S. and displays autographed photos from almost every president since then, along with historic front pages and vintage typewriters. The organization's fundraising banquets have honored such Fourth Estate legends as Tom Brokaw, Ted Turner, and George Will.
---
Jan. 26-31, 2020 – NASJA Western Winter Summit –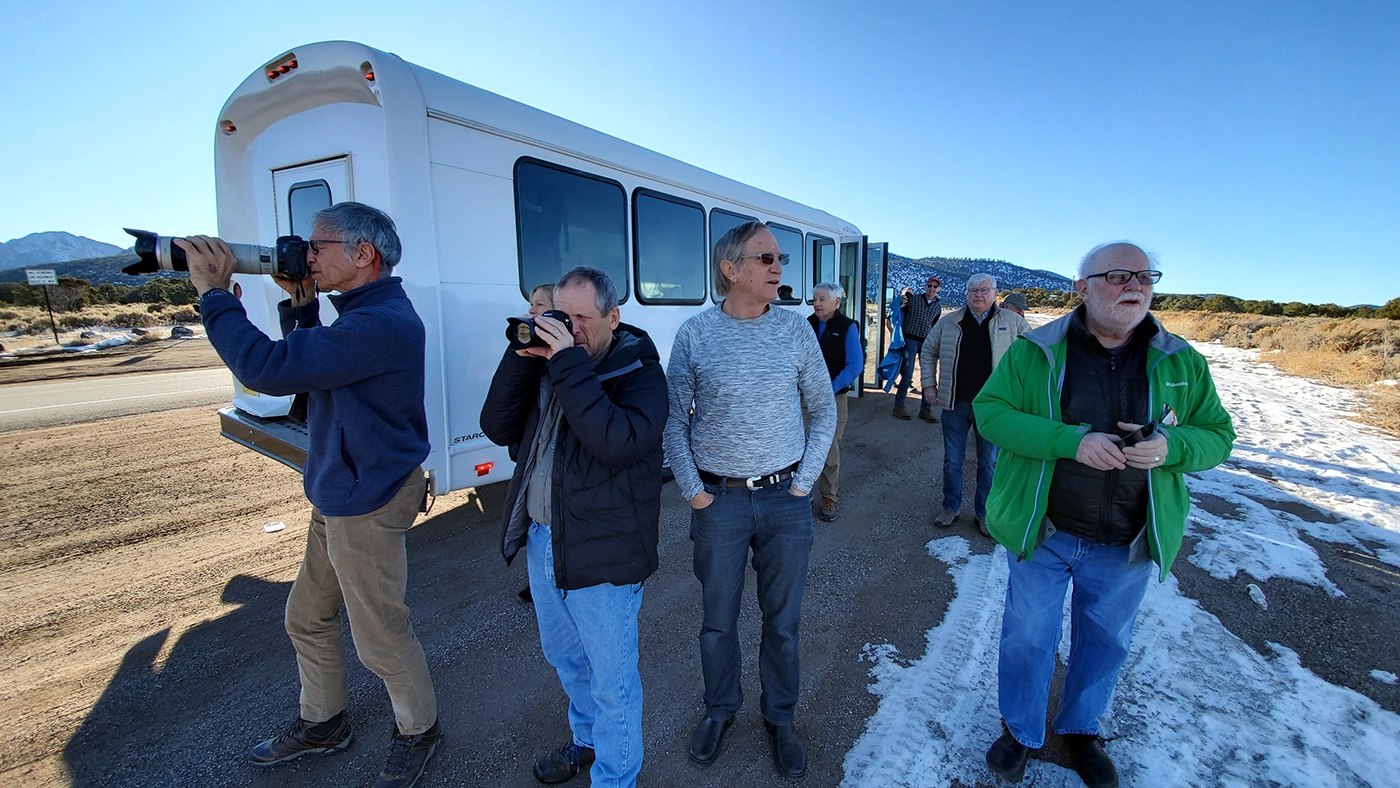 The Western Winter Summit was held this year, for the first time in 25-plus years, in northern New Mexico. From Jan. 26-31, 19 lucky participants enjoyed largely sunny skies, but also a 4-6 inch powder refresher that fell on the eve of our two-day Taos Ski Valley stop, which powder hounds continued to enjoy on the last day at Angel Fire Resort overlooking the beautiful Moreno Valley.
The trip began with a day at Ski Santa Fe, where participants learned the secret of New Mexico's skiing at such southerly and largely sunny latitudes – its towering elevation. Ski Santa Fe's parking lot is at 10,350 feet, and at Taos we topped out at 12,450 feet on the stupendous Kachina Peak Chair.
NASJA members had their fill of finely groomed cruisers, gnarly bump runs like famed Al's Run at TSV, glades, glens, hike-to steeps at Taos, and untouched powder at Angel Fire. The consistent comments included the quality of the snow, despite few storms in January, and the huge views under the almost ever-present sun. Plus, members also experienced a nice shot of New Mexico culture, history and cuisine, more distinguishing characteristics of perhaps America's least-known ski region.
We'd like to thank Ski New Mexico, Ski Santa Fe, Taos Ski Valley, Angel Fire Resort, Santa Fe Tourism, the Loretto Inn and Spa of Santa Fe, Heritage Hotels and El Monte Sagrado in Taos, Restaurant 192 in The Blake at Taos Ski Valley, and Santa Fe Valet for their generous assistance in making this memorable outing a success.
---
Jan. 12, 2020 – Windham Mountain Resort –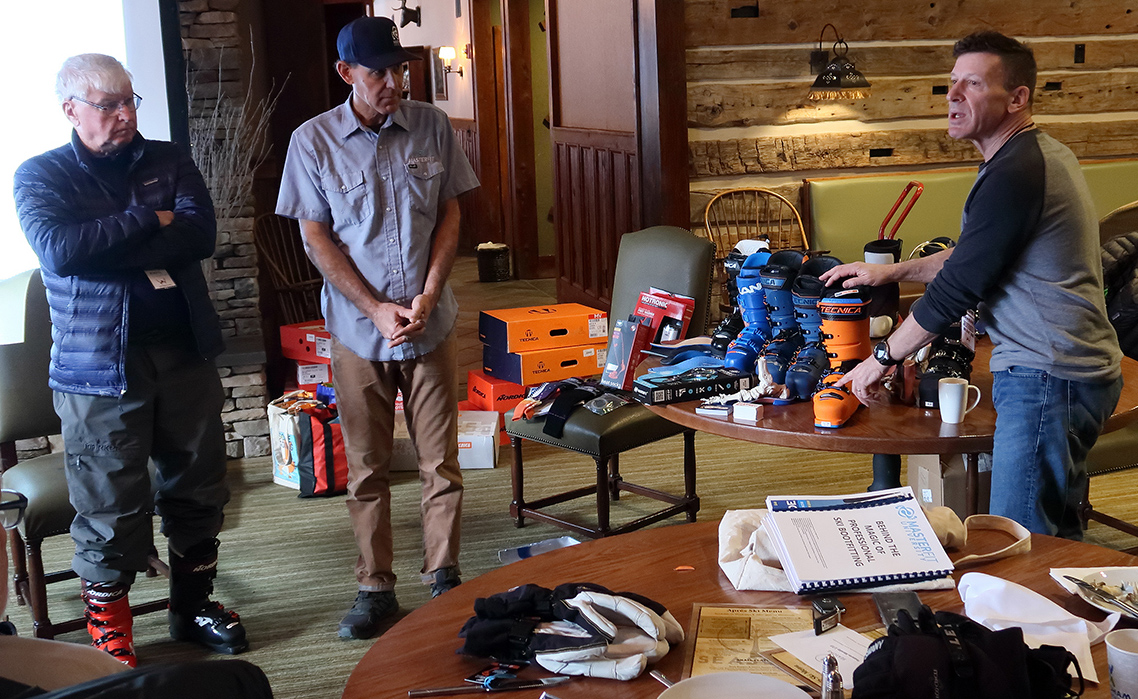 One could be excused for wondering what the sliding would be like for the NASJA members who gathered at Windham on Jan. 12 – or if there'd be any sliding at all when the group headed out on Monday morning, given that the preceding weekend had seen record warmth throughout the Northeast. But showing the mettle and determination that Eastern snow lovers have come to expect from the mountain op crews almost anywhere in the Northeast, the Windham team went above and beyond providing us – by the time we all clipped into our bindings on Monday morning – with not only a wide variety of runs – for all abilities – but with surface conditions that were carveable and amazingly consistent, top to bottom.
The gathering got off to a good start before we even hit the slopes with a nice welcome reception at Tavern 23 at the Winwood Inn. Breakfast featured an engrossing talk by the team from Masterfit University – Jeff Rich and Steve Cohen, plus local expert Marc Stewart, lead bootfitter at Windham Mountain Sports – on the importance of having boots fitted correctly as well as having the correct footbeds.
Tuesday morning's presentation featured Windham Director of Marketing Dave Kulis who gave us all an update on improvements Windham has undertaken in the past year and a hint of things to come. Martin Griff provided advice on organizing digital images so you can easily find them again.
This was a small gathering – but the quality of the participants – on both the writer side as well as the corporate side, made for a two days of good conversation and companionship.
Clips from the Windham Mountain Resort Meeting
---
NASJA Meeting in Boston November 15, 2019
Boston Meeting Includes Professional Development Session on Pitching Editors
Eric Wilbur says editors want big, original story ideas. (Photo by Martin Griff)
The Nov. 15 meeting during the Boston.com Ski & Snowboard Expo was well attended by members from predominantly New England and Middle Atlantic states. The session included pitch tips from broadcast journalism teacher and Boston Globe sportswriter Eric Wilbur. He is also newly appointed digital editor of the New England Ski Journal.
Wilbur polled several Boston area ski editors for tips on snowsports stories they are looking for. Wilbur has solid New England credentials: He grew up skiing at Black Mountain, a place that is still largely unchanged from when he learned how to ski 35 years ago. What do editors want? Eric explained:
Pitch out-of-the-box ideas that might have New England connections while highlighting the skiing lifestyle in other regions. Maybe there's a New England mini-club based at Whistler, or a New England club that visits the Alps the same week every year and has fun stories to tell. Consider "where are they now?" angles, resort comeback features, debate which pass is the best, or as another example, simply why small resorts still matter.
Keep your pitch brief (and not suck-uppy). No editor has time to read long pitches. They should be a couple of sentences about why the story matters and why readers will care. Subject line on the email should be short and simple and clear that it's a pitch. Indicate whether you have access to high resolution photos to accompany the story. Proofread your pitch – sloppy pitches will lead editors to believe the story might be sloppy as well.
Think about the headline. Editors want a piece with a headline that will grab readers' attention, and giving editors a hint of what that headline could be up front is super-helpful.
Make sure the story is exclusive. Nothing is more of a turn-off than a pitch that suggests an update or a refreshing of something done previously for another publication.
So much coverage of the ski industry is about infrastructure, amenities, capital improvements, but the most compelling topics are people-oriented … the liftie who has seen, heard, lived it all over the course of a few winters or a few decades, or the snowcat groomer who has a perspective few others get to experience.
NASJA White Mountain Summit: North Conway, New Hampshire, March 4, 2019
Members of NASJA (North American Snowsports Journalists Association) had the White Mountain Summit in New Hampshire in early March attracting 21 participants. Trip coordinator Roger Lohr commented, "It was a different type of NASJA meeting but it was exactly like my family ski trips where we enjoy different activities throughout weekend."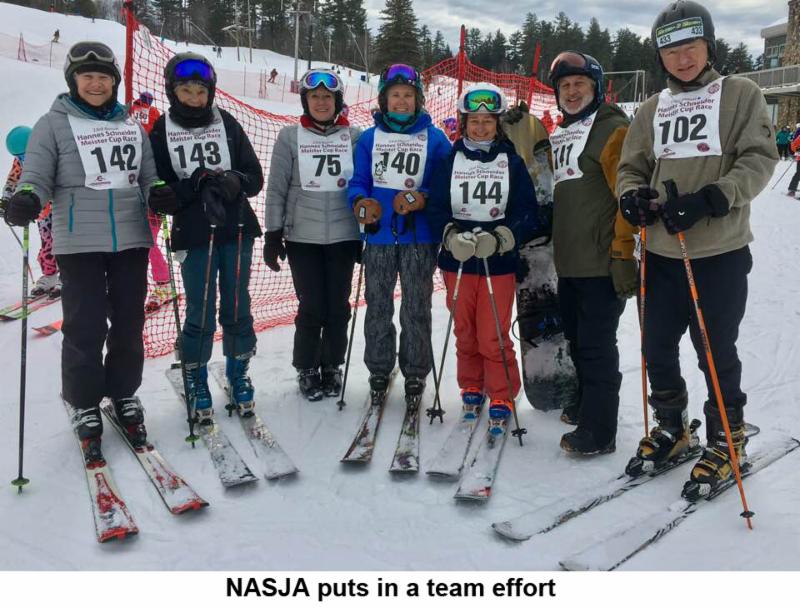 Activities ranged from a ride up the Mt. Washington Auto Road via a "SnowCoach" to a great day of skiing at Bretton Woods. NASJA organized different options to offer its writers a variety of potential stories. On the opening night, the group attended a reception at the newly opened New England Ski Museum's Eastern Slope Branch showcasing memorabilia ranging from antique skis to vintage ski pins. On Friday March 1, attendees visited The Glen House, a new hotel at the base of Mt. Washington. During a delicious lunch, the group listened to presentations about new cross-country ski technology and details on the new hotel's sustainability practices. Then it was time to hit the trails at the Great Glen Trails Outdoor Center cross country skiing with Olympian Sue Wemyss giving tips on how to be a better Nordic skier. Some participants tried snowshoeing and fat-biking.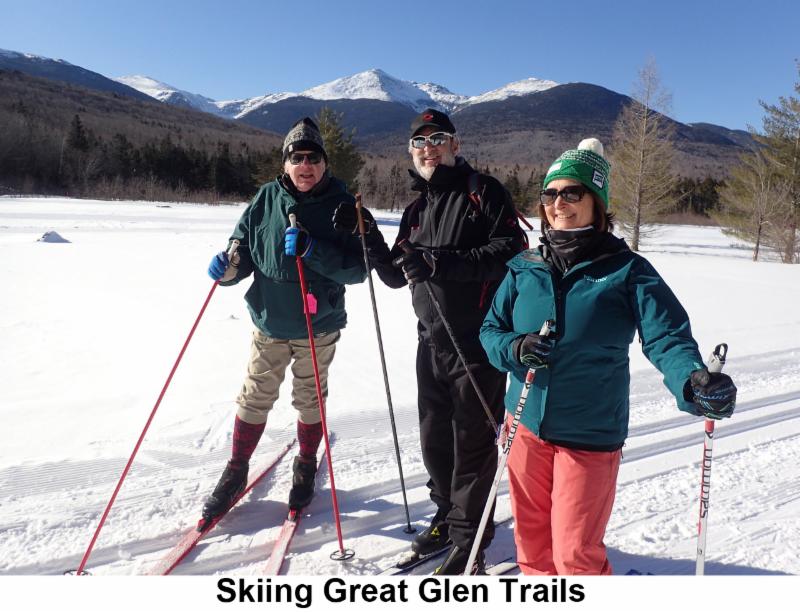 On Saturday, The Hannes Schneider Meister Cup race was hosted by the New England Ski Museum and Cranmore Mountain Resort in North Conway. An opening ceremony included Bavarian music as local legends spoke briefly about the importance of the annual event, now in its 23rd year. Cranmore's spokesperson Becca Deschenes referred to the Hannes Schneider event as "her favorite weekend of the winter!"
Many NASJA members raced in the main event and while not being a very competitive thing for NASJA participants, the incredible camaraderie between racers was very apparent. Roger Lohr won the 2019 Hannes Schneider Meister Cup 1st Place Snowboard. NASJA president Iseult Devlin had the fastest time among the members and BEWI Sports president Bernie Weichsel posted the most improved time between the two runs.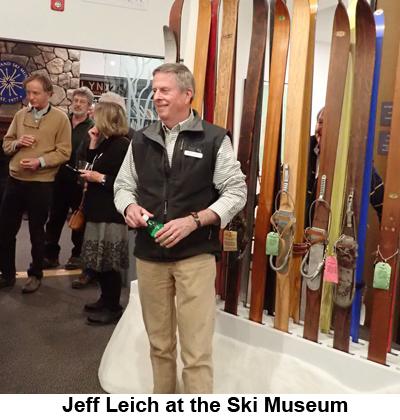 On Sunday March 3, NASJA member and author Jeremy Davis talked about his latest book, The Lost Ski Areas of the Berkshires. The morning stroll through ski history provided a great foundation for the final destination of the NASJA meeting on a short trip through the scenic Crawford Notch to Bretton Woods Resort. Once there, they got the lowdown on the construction projects already underway including the first 8-person gondola in N.H. and a new mountain top restaurant. The ski conditions were simply superb and enjoyed by all.
---
White Mountain Summit Media Coverage
Conway Daily Sun by Tom Eastman- https://www.conwaydailysun.com/news/local/today-s-schneider-cup-celebrates-valley-s-ski-heritage/article_96c74dce-3b87-11e9-b987-bb494fe84012.html
@XCSkiTravel Twitter feed on New England Ski Museum-https://twitter.com/XCSkiTravel/status/1101819113805090816/photo/1
@XCSkiTravel Twitter feed on SnowCoach –https://twitter.com/XCSkiTravel/status/1101843753369767937/photo/1
XCSkiResorts.com Hot Topics- http://www.xcskiresorts.com/hot-topics
Valley Voice by Tom Eastman- https://www.conwaydailysun.com/community/valley_voice/valley-voice-skiing-and-history-at-meister-cup-weekend/article_1a791624-3c51-11e9-98cf-9bb41e322f94.html
SeniorsSkiing by Mike Maginn on Fat Biking- https://www.seniorsskiing.com/mike-on-a-fat-bike-on-snow/
SnoCountry.com by Roger Lohr on Bretton Woods Resort- https://www.snocountry.com/news/entry/bretton-woods-resort-projects-update
XCSkiResorts.com on March 26, 2019 by Roger Lohr on XC Skin Skis- http://www.xcskiresorts.com/new-blog/2019/3/26/cross-country-skin-skis-will-improve-the-recreational-experience
TSIL article from March 5, 2019- https://nasja.org/about/meetings/white-mountain-summit-meeting-february-2019/journalists-join-festivities-at-hannes-schneider-meister-cup/
SeniorsSkiing by Tamsin Venn on Great Glen visit- https://www.seniorsskiing.com/at-great-glen-trails-nordic-skiing-and-activities-for-everyone/
Video on the White Mountain Summit by Don Burch- https://www.youtube.com/watch?v=oHYLVfwmvVU
Release on VisitWhiteMountains.com- https://www.visitwhitemountains.com/press/white-mountain-summit-nasja-greets-mt-washington
https://www.seniorsskiing.com/history-lives-at-cranmore-mountain/
SeniorsSkiing by Don Burch on Cranmore Mountain Resort-https://www.seniorsskiing.com/seniors-visit-cranmore-bring-grandchildren/
Social media content included Twitter postings from Great Glen, SeniorsSkiing and
Facebook postings from XCSkiResorts, NASJA (one boosted), Karen Cummings, and Learn to Ski Month.
---
Northeast Winter Weather Summit – December 2-3, 2018 – Stratton Mountain Resort
Winter Weather Summit – Making the Best of Winter
By Roger Lohr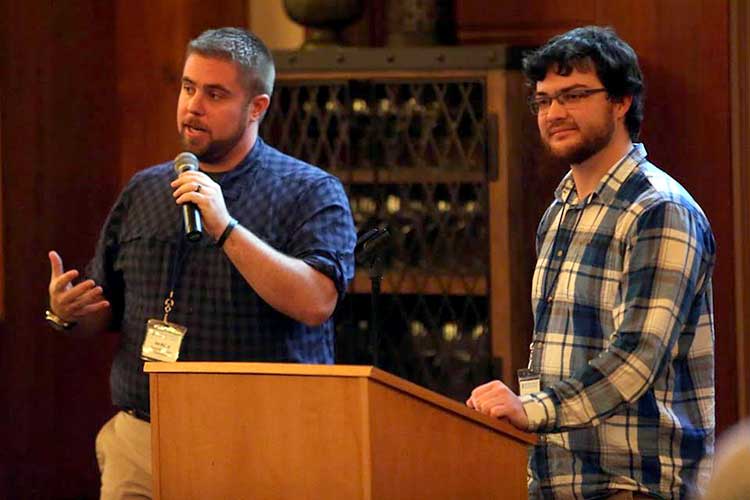 In a story posted by TSIL, the Northeast Winter Weather Summit, organized by the North American Snowsports Journalist Association (NASJA) with support from 19 other companies and organizations, saw meteorologists, ski resorts and media gather at Stratton Mountain, VT, Dec. 2-3 for the first of what many hope will be a continuing conversation between the various groups to provide information on making the best of winter.
Pictured above left: Keynote speakers Ian Bailey and Adam Gil (Mount Washington Observatory) share a glimpse into severe weather conditions atop Mount Washington.
The meeting brought together some groups and topics that don't normally occur at industry meetings and some lively discussions ensued. There were 70 people registered; roughly half of them meteorologists/media. New York, Massachusetts, Vermont, Maine, New Hampshire, Quebec, and Pennsylvania ski areas were among the states represented. The Weather Summit was supported by Mountain Travel Symposium, MountainGuard, Prinoth, HKD Snowmakers, BEWI Sports, Dion Snowshoes, and VFC (The North Face). The attending meteorologists were from Boston, Mt. Washington Observatory, Hartford, Albany, Altoona (PA), Skywatch, and WeatherNation to name a few.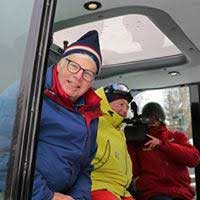 On Sunday Dec. 2, the opening seminar about "How To Dress for Winter Weather" by The North Face corporate rep Stan Kosmider was a big hit, with multiple questions from the audience about smart layering and technological advancements in snow sports apparel. Next, the Welcome Reception started with short introductions from NASJA President Iseult Devlin and welcome remarks from Stratton President Bill Nupp. The keynote presentation featured observers from the Mt. Washington Observatory, who gave a vivid picture of life on top of Mt. Washington, which claims the worst weather on earth (i.e., 231 MPH winds!). Did you know you can use a frozen banana as a hammer?
Eight lucky attendees joined Tim O'Neil, founder of the Team O'Neil Rally School at a Sun Bowl parking lot for some tips on driving in winter. O'Neil stated that his favorite position for driving was sideways, and demonstrated with some hot laps around the icy, slushy parking lot. Then participants got their turn, although not at quite the same velocity. On another part of the mountain, Vermont Lt. Governor David Zuckerman made an appearance to demo Vermont manufactured Dion Snowshoes and take a ride in the Prinoth snowcat. Zuckerman also addressed the group at lunch thanking them for coming to enjoy the incredible opportunities Vermont has to offer. He invited meteorologists to "be educators on how to tell people to dress for winter."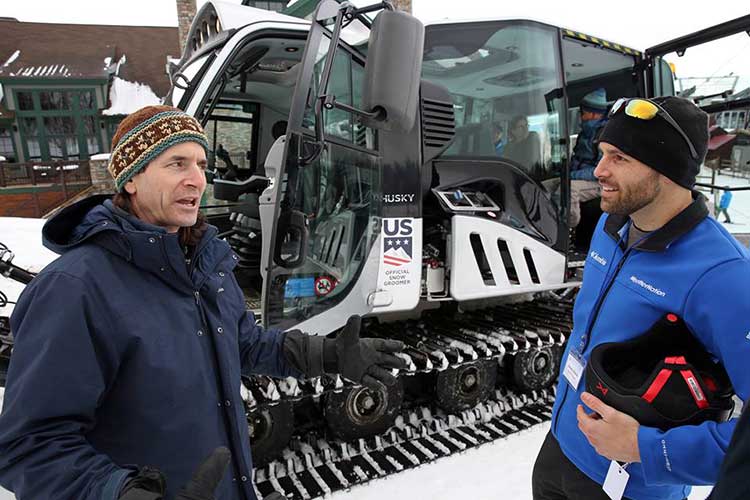 ---
Clips from Northeast Winter Weather Summit – December 2-3, 2018 – Stratton Mountain Resort
Iseult Devlin, Crowds hit new snow at Stratton Mountain for Great December start, North Jersey.com
Martha Wilson, New Snow Bowl Lift Headlines Stratton Improvements, SnowCountry.com
Iseult Devlin, How to dress for volatile winter weather, North Jersey.com
Martha Wilson, How Skiers And Riders Dress For Winter Weather, SnowCountry.com
Janet Franz, Weird Weather: Rethinking Ski Clothes For A Fickle Climate, SeniorSking.com
Nicole Feliciano, Dressing for Cold WeatherMom, Trends.com
Phil Johnson, Northeast Winter Weather Summit review, Daily Gazette
Dave Meeker, Inaugural Northeast Winter Weather Summit, Ski Area Management
Roger Lohr, Winter Weather Summit – Making the Best of Winter, NASJA Newsletter
Martha Wilson, Tips For Safe Winter Driving, Snowcountry.com
Michael Maginn, Winter Driving: Where's Your Car's TC Button? Senior Skiing
Lillian Eden, Sustainable Practices at Local Ski Areas, Green Energy Times
Ski Area Management Podcast Episode: https://saminfo.podbean.com/e/ep8-northeast-winter-weather-summit
---