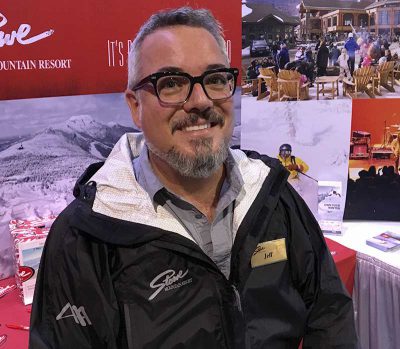 This year's recipient of the 2018 Bob Gillen Memorial Award is Jeff Wise, Stowe Mountain Resort marketing/communications director. This award, named after the late and well respected Crested Butte and Sugarbush ski areas marketing director, singles out a media representative who exemplifies professionalism and dedication to public relations and communication in the ski industry.
Jeff began his career at the resort in 1993 as a snowboarding instructor and then as snowboard school director. In May of 2001, he became Stowe's marketing manager and later communications director, a position, which he enjoys to this day.
Highlights of his career have included overseeing communications and the Stowe brand during a 17-year, $600 million upgrade to a world-class year-round resort and the integration of the mountain into the Vail Resorts family. Jeff has been a model media liaison, dealing with journalists and the public in an exemplary, professional manner and elevating Stowe's brand in recognition and respect in the U.S. and worldwide.
Jeff was one of the first communications director to offer his media kit in digital form, first with CDs and then using a convenient flash drive, that saves resources and simplifies the dissemination of information. He received the MarCom Award for "Best Media Kit" and an NSAA honor for "Best Overall Marketing Campaign." Jeff also served as the chair of the Vermont Ski Areas Assoc. PR committee for many seasons.
Past Award Winners:
2002. . . . . Gina Kroft, Crested Butte Mountain Resort
2003. . . . . Chip Carey, The Canyons/American Skiing Company
2004. . . . . Barbara Thomke, Smuggler's Notch Resort
2005. . . . . Joan Christensen, Winter Park Resort
2006. . . . . Sandy Caligiore, Olympic Regional Development Authority
2007. . . . . Myra Foster, Stratton Mountain Resort
2008. . . . . Bonnie MacPherson, Okemo Mountain Resort
2009. . . . . Tom Kelly, United States Ski & Snowboard Assn.
2010. . . . . Tom Meyers, Wachusett Mountain
2011. . . . . Nathan Rafferty, Ski Utah
2012. . . . . Eric Friedman, Mad River Glenn
2013. . . . . Mary Jo Tarallo, "Learn to Ski and Snowboard Month" and the "Bring a Friend"
2014. . . . . Jon Lundin, New York State Olympic Regional Development Authority
2015. . . . . Jack Sibbach, Sun Valley
2016. . . . . Joani Lynch, Mammoth Mountain
2017. . . . . Jeff Blumenfeld, Blumenfeld and Associates PR