Announcing the 2017 Hirsch Award winners!
Read more about the 2017 winners and past Hirsch Award winners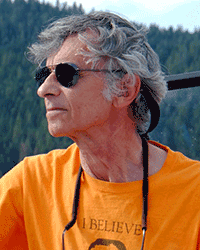 Photography: Dino Vournas
Dino, a NASJA member for over 40 years, started his career as a photojournalist and ski and travel writer in the early 1970s with the Hayward Daily Review in California. He then had stints at the Oakland Tribune and the San Francisco Examiner as chief photographer. For 10 years he was a freelancer for the Associated Press, mainly shooting pro and collegiate sports and writing ski travel stories for the Tampa Tribune. Presently he is freelancing for local municipalities and the Department of Energy, and writing travel stories for the Bay Area News Group in the San Francisco Bay Area. This is his fourth Hirsch Award, three for photography and one for newspaper feature writing.
---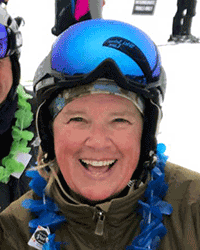 Columns: Moira McCarthy
Growing up, Moira was constantly counting the days or hours -- depending on the time of year -- until she'd get out skiing. "I knew from a very young age, it was my place," she said. A marginally competitive freestyle skier, Moira was a champion, however, at making friends on the slopes, putting in full ski days and just plain savoring it all. Writing for Snow Country Magazine, SKI, Ski Area Management and the Boston Herald, she said, is surreal.
"That I get to do what I love as my career is just incredible," she said. "I am thankful for every single day." When she's not skiing or writing about it, McCarthy can be found running, playing tennis, hanging out at the beach or plotting her new granddaughter Molly's ski future.
---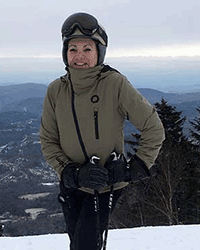 Blogs: Wendy Clinch
Wendy is a two-time winner of the North American Ski Journalists Association's Harold Hirsch Award for Best Ski Blog (2016 and 2017). She is the owner of TheSkiDiva.com, the leading online community for women skiers, which she founded in 2006. TheSkiDiva consists of a blog, where Wendy writes on a variety of topics related to skiing and the outdoors, and a forum where women can discuss ski gear, technique, resorts, and more. Wendy graduated from the S.I. Newhouse School of Communications at Syracuse University, and is also the author of two ski novels: DOUBLE BLACK: A SKI DIVA MYSTERY (Minotaur, 2010) and FADE TO WHITE: A SKI DIVA MYSTERY (Minotaur, 2011). She lives in Plymouth, Vermont, with her husband, noted author Jon Clinch.
---
Feature Writing: Lisa Ballard
Lisa has won 3 Emmys for TV production and hosting; 3 Harold Hirsch Awards, TV; numerous awards for TV, photos, writing from the Outdoor Writers Association of America. She has been a freelance ski journalist since 1991 and is a past president, OWAA. Her media outlets include SkiRacing.com, NSAA Journal, Vermont Sports, PSIA's 32 Degrees.
---