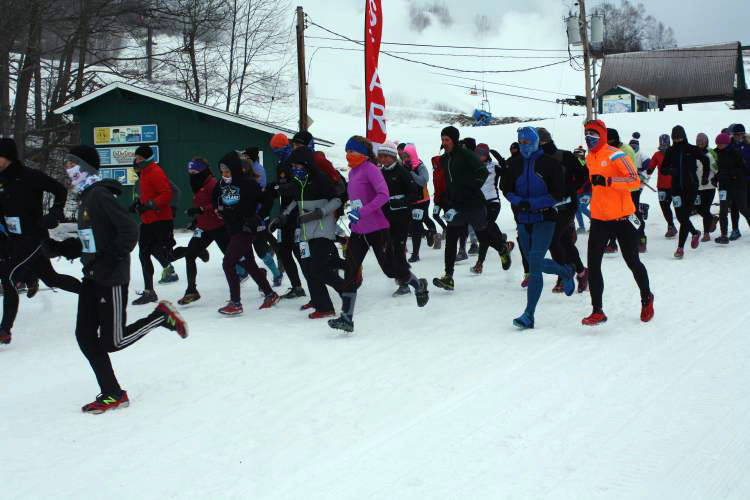 by Marty Basch, The Valley News, March 11, 2017
The sun was yawning as the racers showed up at Black Mountain in Jackson last Saturday.
Snow guns blanketed trails as the 70 prepared for the 7 a.m. start with single digit temperatures.
Brandon Baker, of Lebanon, spoke through a bullhorn, both psyching up the assembled with skis, snowboards, snowshoes, spikes and studded running shoes while also getting in a quick safety message they repeated back to him: Runner's right, skier's left.
Then with a three-two-one countdown, they were off into the wilds, a 2.3-mile course with 800 feet of elevation gain.
Such is Winter Wild (winterwild.com), a 10-week series across northern New England where competitors race up and down a ski area, wrapping up the race and awards ceremony in the early morning hours before the lifts start running.
"I like to think Winter Wild has the same ethos as the hiking idea of leaving no trace," said Baker, the race director and also part of the event production company Team AMP.
Attracting endurance athletes ranging from novice to expert, the series, now in its eighth year, was founded by New Hampshire ultra athlete Chad Denning. He died in 2014 at age 39 while running along the Appalachian Trail.
"This series is for people looking for an alternative winter challenge," said Baker, a runner himself. "We have endurance athletes and some people who just like to snowshoe and won't run one step."