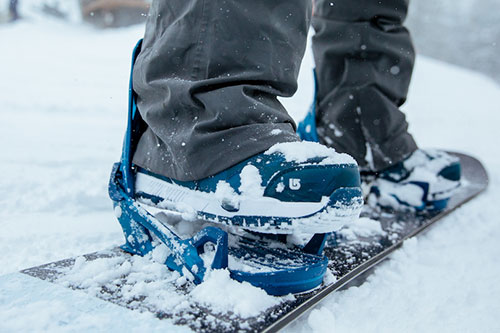 by Dan Giesin, Nov 14, 2017, Ski Industry News, getskitickets.com
If the best part of your day on the hill is not putting on your snowboard boots but rather taking them off, you're in a world of hurt.
In more ways than one.
"You have have a properly fitted boot that works for your style of riding," says Kiel Rafter, a supervisor with the Burton Snowboard Academy at Northstar-California. "Nothing else matters.
"If you have boots that are too big, you're going to be swimming in them and you'll find your board won't be responsive. If they're too small, your going to have a lot of foot pain."
So how does one find that perfect pair of boots? Rafter has some suggestions.
No Magic Bullet
"If you are a casual rider you should try on several pairs and brands of boots because there are no magic bullet for determining your right size," he says.
"The boots must be snug; it's OK if the toe touches the inner liner — remember, if you're an adult your not looking for room to grow. A good rule of thumb is to try on a pair that's a half-size down from your shoe size. That will allow the liner to pack out to the proper fit."
Rafter suggests that you pull the inner liner out of the boot and then put the outer boot on; a good fit would be if you can slip your index or middle finger and no more between your heel and the boot.
Soft or Stiff?
Another consideration is the type of snowboarding you plan on doing most.
"If you are a beginner snowboarder a soft flexing boot is the one you should choose," Rafter says. "If you are a park or freestyle rider, you should also go for a softer boot. If you plan on being an all-mountain freerider, you need a stiffer, more responsive boot."
And by no means should you stay with the factory insoles that come with the boots.
"If you are more of a weekend warrior, you might get away with it," Rafter says, "but if you are riding more than 30 days a winter it's highly recommended that you get a custom footbed. They will help keep you feet in their proper positions and improve your performance."
Spend a Little Extra
Finally, be advised that you get what you pay for.
"It might be more boot than you need — or want to pay for," Rafter says. "But by getting a better quality product, you will have a boot that will last longer and perform better."