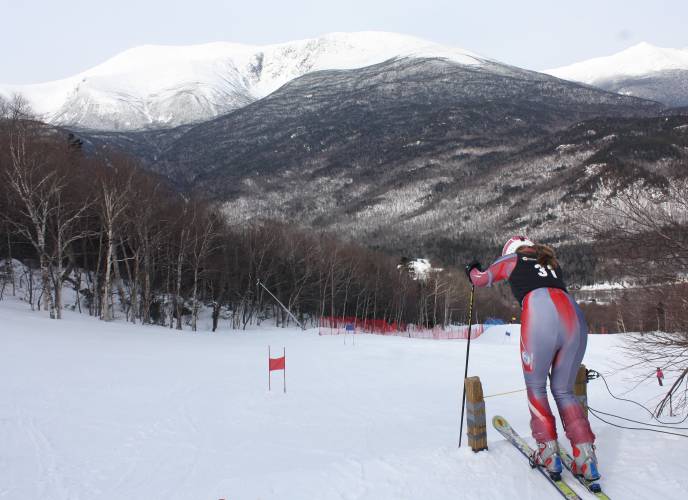 by Marty Basch, Valley News, February 18, 2017
Telemark racing isn't about old-school soft leather boots and three-pin bindings anymore.
The gear's lighter and sturdier. There are still giant slalom gates, but there's also a jump — a 360 degree banked turn called a reipelykkje — and cross-country style sprints.
There is now a Telemark freeskiing discipline, too.
"There is more of an adventure race type of mentality to competitive telemark," says United States Telemark Ski Association (USTSA) President Garrett Long. "You take the gates of an alpine course and throw in the adrenaline of jumps and the endurance of cross-country."
The non-profit USTSA is the governing body of the U.S. Telemark Ski Team and Telemark Freeskiing. It oversees several New England races, including the Minus33 Eastern Telemark Series sprint classic last Sunday at Wildcat Mountain Ski Area in Pinkham Notch, N.H.
Telemark is a free-heeled pursuit combining both Alpine and Nordic styles. It was developed in Norway's Telemark region and pioneered by racer Sondre Nordheim in the late 1860s.
Though Telemark has a relatively recent racing history in the U.S., it's been getting crazy.
In the one-run classic format, racers go through gates but also have features that can include a jump, the reipelykkje (pronounced "rap-uh-loosh-uh" and also known as the rap) — roundabout sprint on a 360-degree layout — and a skating section. The sprint classic is similar to the classic format, but racers take two runs and the course is shorter.
The parallel sprint classic is a single elimination race that has two competitors going side-by-side in a course that has a mid-route jump, followed by the rap and a skate. That was introduced to World Cup racing in 2012 with hopes of it becoming part of the Olympics.
New Boston, N.H. resident Miles Fey, 17, used to be a terrain park guy, but now is a national Telemark development team member.
"I like that it encompasses lots of disciplines in one race — gates, jumps and Nordic," said the Derryfield School student. "The jump provides a different dynamic. You need to have the right amount of speed and time your landing well. If not, you might eat it."