By Jonathan Wiesel, originally published in MichiganSkier.com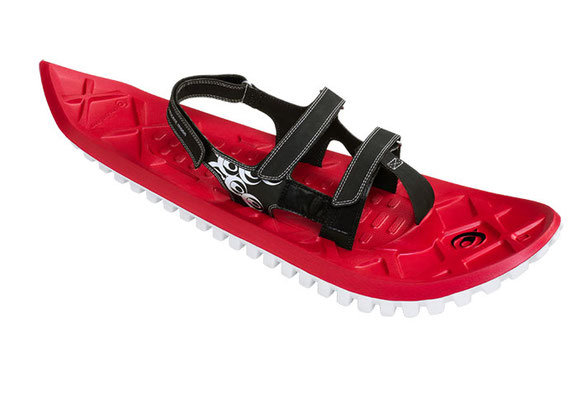 As a long-time, single-minded Nordic fanatic, snowshoeing used to seem pretty tame – kind of a melding of on-snow recreational and utilitarian, with not much maneuverability and no glide.
Aging knees and mature perspective (or some approximation!) have changed this some, along with vast improvements in snowshoe materials and design, from wood-and-animal hide to aluminum-and-synthetics. Newer products aren't as pretty as the natural materials, but they're tougher, lighter, longer-lasting, have easily adjustable bindings, and come with metal crampons that can grip in crust and up (as well as down) hills. Also, rodents don't chow down on them in summertime.
It's always interesting to see how technology evolves. In the Nordic world, we've seen the introduction of groomed trails, synthetics in skis, skate skis, manmade clothing, waxless bases, boot/binding systems… All that's led to more fun, faster skiing, better support, easier turns, warmer toes and tushies – virtually a different world.
And in snowshoeing, this winter we may be seeing an equivalent revolution with the introduction of foam snowshoes: the Evas. (Thus far, the only foam manufacturer is Crescent Moon Snowshoes of Boulder Colorado: www.crescentmoonsnowshoes.com.)
Got to be kidding, right? Foam? It's gonna fall apart in the cold, crumble into small pieces under your weight.
Nope.
I'm a 195 pound guy who's waded around wearing Evas in a foot of fresh Montana powder as well as heavier crud; managed a 180 degree jump (no good reason, I was just curious); even backed up for a couple of yards without damaging self, ego, or equipment.
Among the things I like about these 'shoes is the weight (3.5 pounds per pair); ease of movement (you can walk, you can run… and they feel like an elongated extension of your foot, due partly to a "rocker" design, plus they're only 24 inches long); self-explanatory bindings; flotation (the entire base is in snow contact); good insulation from the snow below; and a lot more. Even sidestepping is easy; and the price is right at $159.
I'm also delighted by the Crescent Moon sense of humor, which describes the Evas as looking like "the love child of a running shoe and a burly snow tire."
The Evas became available this past fall, so I don't know about their longevity – has to depend on amount of use and abuse, I suppose, but figure for most of us, several years. The one possible weakness I've found after testing is that the current plastic cleats and lugs don't grab as well as metal on crusty sidehill. (On the other hand, I've slid sideways downhill on the old wood 'shoes, and slipped on crust with modern snowshoes too.) Happily, the company is working on inserting metal cleats for next winter.
I haven't used the Evas in more than about 14 inches of fresh snow, but Crescent Moon suggests using them on trails rather than in deep snow. My guess is that it's not good for the foam 'shoes to step around on abrasive surfaces like sidewalks or road crossings (yep, done that with my other aluminum snowshoes – not smart then either).
And if you have any questions or concerns, call co-owner Jake Thamm at 303-859-5216. That's his own cell phone number. Try THAT with any of the major manufacturers!
Jonathan Wiesel is a Montana-based writer and cross-country ski consultant.  (www.nordicgroupinternational.com).