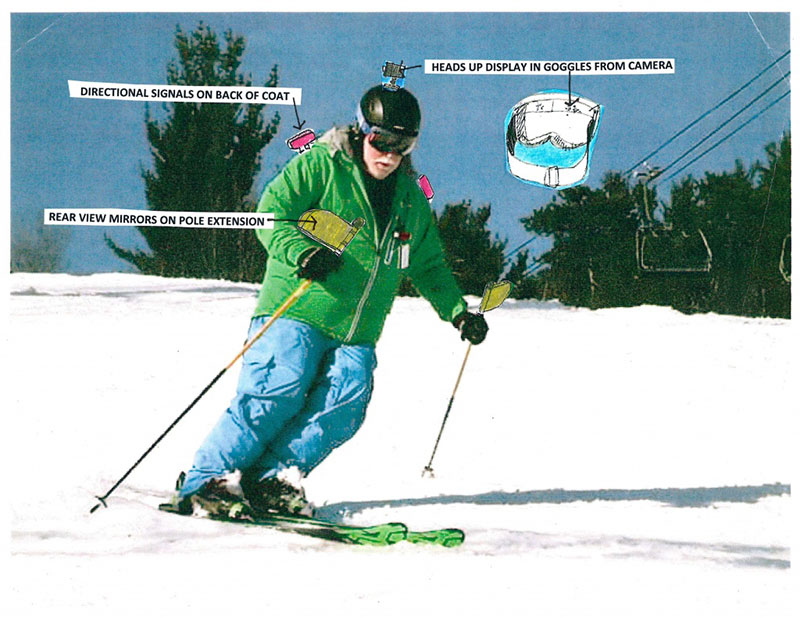 By Mike Roth, originally published in The Times Union, March 22, 2018
On Monday the 19th of March, I skied Mount Snow which was fantastic. Since the week before they had received over 5 feet of snow. The trail conditions were packed powder over the entire mountain and could not have asked for better conditions aside from fresh ungroomed powder. I skied all over the mountain from the main face to Carinthia to the Sunbrook and the North Face. Everything was consistently great and it appears it will be that way for quite a while (especially since they expect more snow to come shortly).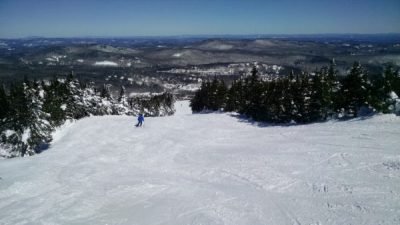 There was a decent crowd at the Bluebird bubble 6 pack chair but that was mainly because it was the only main face lift operating. There was no reason to run any of the others due to the lack of people. Even though the lift line took a few minutes to get through there basically was no-one on the trails as you skied down to the base as indicated by the photo above.
While I was on the mountain there were hints of the Code of skiing so I will repeat them.
It's YOUR responsibility
1. Know your ability and always stay in control and be able to stop and avoid other people or objects. It is your responsibility to stay in control on the ground and in the air.
2. Take lessons from qualified professional instructors, to learn and progress.
3. As you proceed downhill or overtake another person, you must avoid the people below and beside you.
4. Do not stop where you obstruct a trail or run, or are not visible from above.
5. When entering a trail or run or starting downhill, look uphill and give way to others.
6. When riding a chairlifts use the restraining devices. Always use suitable restraints to prevent runaway skiing/boarding equipment. Ensure your equipment is in good condition.
7. Observe and obey all signs and warnings. Keep off closed trails or runs and out of closed areas.
8. Before using any lift you must have the knowledge and ability to load, ride and unload safely.
9. Do not ski, snowboard, ride a lift or undertake any other alpine activity if your ability is impaired by drugs or alcohol.
10. If you are involved in, or witness an accident, alert Ski Patrol, remain at the scene and identify yourself to the Ski Patrol.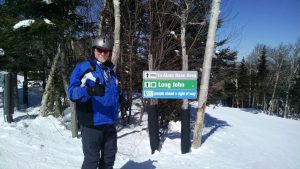 If you note all the items pertain to you personally as a skier but item 3 pertains to ME and is the most important!
This is my biggest gripe while on the mountain. When people pass you, they just fly by, many very close to you and without notification. How hard would it be to say "on your right or on your left"? It should be noted on the 3rd item to say that because no-one does anymore. What a shame. I say no-one, I do and on Monday one other person said it to me. And I thanked him.
Every time I ski, I am increasingly conscious of the fact that I will be passed by someone behind me and almost always without notification. It is a rule but it should be a law. It is a law to use your directional in a car when you are going to change lanes or turn. It should be illegal to pass someone without notification.
When skiing I cannot tell you how many near misses I have had by individuals passing me without notification. "On your right or on your left" must not be in anyone's vocabulary. I am not sure how we can instill this in skiers.
Maybe these notifications should be taught like in the Armed Forces, through repetition. In that way the repetitive knowledge might sink in and it should start in the ski school levels. In addition be posted on all the lifts and in the lodges so it is conspicuously there. Mount Snow has done some of this, on the trail markers there are signs on the mountain that say "go with the flow people ahead = right of way" also the codes of skiing are posted on the TV next to the menu in the food court. This can't be missed.Better than being printed on the napkins.
I have been thinking of some solutions for me to protect myself from the skier overtaking me on the slope.
A low tech solution would be to add rear view mirror to my ski poles so when I reach out my turning pole I can view who might be coming up behind me , along with that a set of direction signals on my back that lets the person behind me know I am going to turn.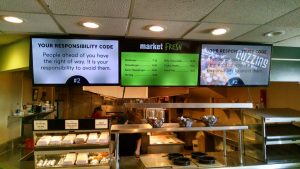 A high tech solution would be to have a camera on the back side of my helmet and a heads up display in my goggles much like the backup cameras in your car.
A higher tech solution might be a blind spot detection system like on the side view mirrors of some of the newer cars that will notify you with a beep that there is someone on your side you can't see.
Another simple solution would be not to ski on busy days but even while skiing mid- week this week, I was passed 3 times real close and there was no one on the slopes. There needs to be more emphasis on the code of skiers' responsibility especially the one that pertains to the other skier. ME!