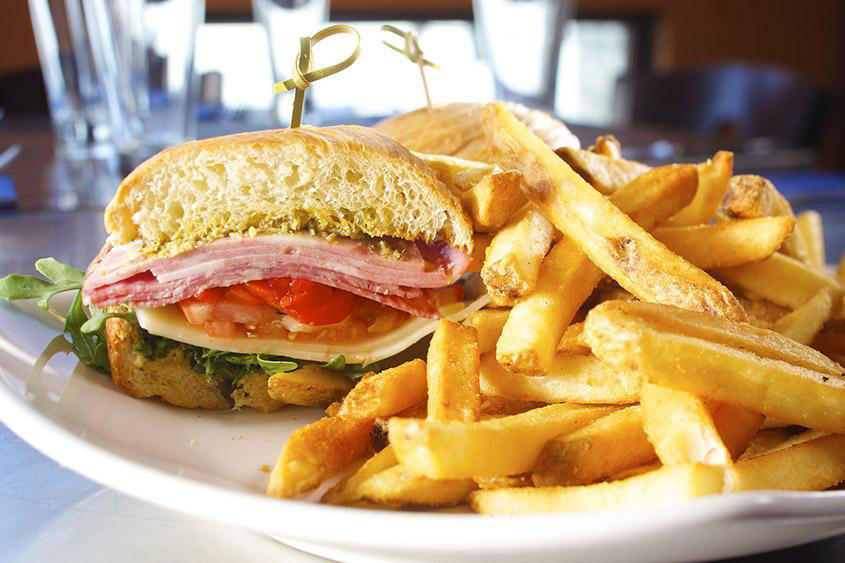 by Phil Johnson, originally published in The Daily Gazette, December 14th, 2017
Snow, the kind that comes from the sky, sure makes a difference. Backyards and hillsides are now white, and that means the the ski season is real.
There has been good skiing for several weeks locally, thanks to area investments in snow-making, But with the recent contributions from nature providing the optics every day, we are now free to focus on what is important: Food!
That came to mind last weekend over a dish of Vegetarian Pho with chicken added and a pair of Ahi Tuna sliders. It was mid-day at Epic, the restaurant in the Solitude Base Lodge at Okemo Mountain and clearly this was more than just a grab-and-go breather between runs. This was a tasty, creative meal from the lodge kitchen: no tin foil, no heat lamp.
While enjoying the moment, I started thinking about a lunch at another ski area just a few days earlier. It was burgers and fries, for generations the standard for ski lodge dining.
This time, the burgers in front of me had been plucked from a cafeteria serving pan, dropped on a room temperature bun, and topped with a slice of tomato and a limp piece of lettuce. Fries, a diet cola and a cup of tea shared the tray.
Before you say 'You get what you pay for,' consider that the tab for the cafeteria line meal came to $37, just about the same as lunch for two at Epic.
In  recent years, food has become a key component in the ski experience. Sure you want great snow conditions and comfortable, speedy lifts. But surveys say you want good food too. Today ski areas are paying much more attention to serving up quality and choice.
"I remember when my mother would give me 10 cents for a hot chocolate, stuff a tuna sandwich in my pocket and send me out on the hill," recalls Diane Mueller, who with husband Tim, has been in charge of Okemo since the early 1980s.
The cost has certainly changed since then, but the do-it-yourself spirit still lives: Just check out the picnic baskets and crock pots on the lower level of the Gore base lodge any Saturday .
But tastes have clearly changed.  At Okemo for instance, today there are 10 different sit-down food locations on the mountain. There is the traditional cafeteria, but it is more like a food court now. There is casual dining with comfort foods and there are more upscale choices with linen, silverware and table service. And tastes change too. A Chinese restaurant and a pizza place at the top of the mountain last winter are gone, replaced this season by a gourmet salad station and smoothies.
"We don't even call it 'food and beverage' anymore." Diane Mueller. "Now it is 'culinary services.'"
A major trend across the region these days is "local." Craft beers from area breweries are featured and "farm to table" dining options are becoming more common, according to long-term Okemo spokeswoman Bonnie MacPherson. "We work with more than 60 local producers to provide food for our restaurants."
There have been pockets of high quality ski area dining around for a while. Deer Valley in Utah is well known for its food offerings, the Seattle Ridge Lodge at Sun Valley is known for its spectacular setting as well as its menu, The Tamarack Lodge at Heavenly Valley in South Lake Tahoe is a great place to eat and the midmountain Seven Glaciers at the Aleskya resort outside Anchorage, Alaska, is a five-star restaurant.
In the East, Okemo is not alone in recognizing the importance of good food to the ski experience. The mountaintop Peak Lodge at Killington, opened just a couple of years ago, combines setting and food options that make people want to linger. LeMassif east of Quebec City doesn't offer hot dogs or burgers, just European-style entrees served by staff in traditional culinary white hats. A personal favorite of mine is the Lohr wines sponsored cafe in the base lodge at Whiteface.
In  Europe, the leisurely meal with good food and beverages has been a staple of skiing for years. There, lunch is more than a necessity. It is part of the experience, too.
You can still get a cafeteria line lunch at almost any area. Just accept that the quality can be hit or miss. And bringing your own remains a time-tested way of knowing exactly what you'll get. But if you want a leisurely meal to cap off a serious morning on the slopes, there are a growing number of ski areas with good food options to try.
Vertical challenge
The 2017-18 Vertical Challenge, once known as the Dew Tour, kicks off its season tomorrow at Okemo. This a a series of on snow fun races with plenty of prizes. And there is no cost to participate. Other Vertical Challenge events in the region will be at Jiminy Peak and at Catamount in mid-February, and at Bromley in early March.
Gore cross country
Section II held a cross country competition last Saturday at Gore's North Creek Ski Bowl track. For many years, holding a competition before Christmas was unusual because of the lack of snow. The cross country snow-making effort installed last year by Gore is the difference today.
I Ski NY
A whole host of special deals, including the popular Kids Ski Free program, are available again through Ski Areas of New York, the ski industry association in the state. For full details check out www.iskiny.com.