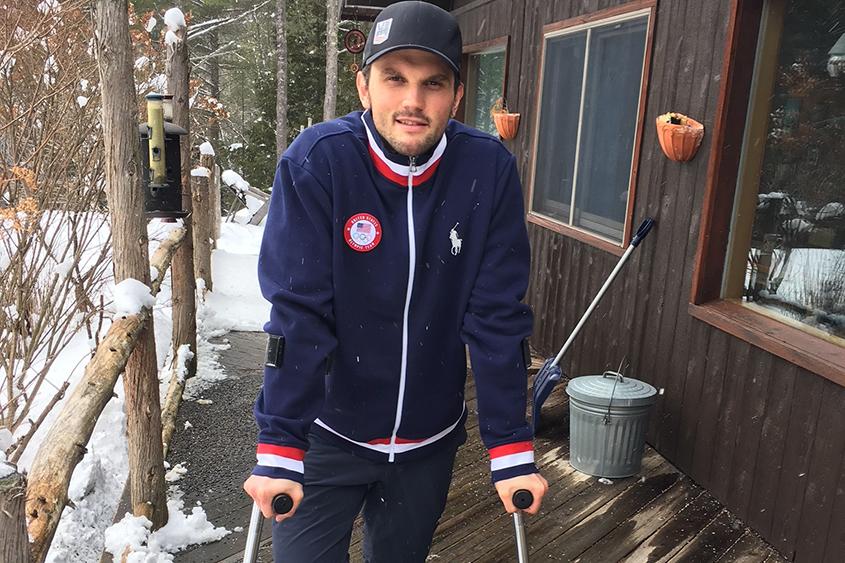 Phil Johnson, originally published in The Daily Gazette, March 22, 2018
'I am confident with what I need to be successful'
Injured skier Tommy Biesemeyer is seen at his family home in Keene.PHOTOGRAPHER: PHIL JOHNSON
The past few days, ski conditions in our area have been the best I can remember. A couple of storms earlier this month brought frosting to a solid base fluffed up by good grooming. Add moderate temperatures and plenty of sunlight and it doesn't get better than that.
Too bad Olympic ski racer Tommy Biesemeyer has had to watch all of this from the sidelines lately.
You may recall that the 29-year-old from Keene, who missed the US Olympic team in 2010 and 2014 with injuries, was set to race both the Downhill and Super G events last month at Pyeongchang. The downhill was postponed because of bad weather. That gave Biesemeyer another training-run opportunity. About a third of the way down the course, his boot slid out in a turn, knocking him off balance, and his right Achilles tendon ruptured.
So long, Olympic dreams. At least for the time being.
Biesemeyer, on crutches, is back in Keene for a few days, catching up with family and working out at the Olympic Training Center in Lake Placid. Soon he will head to Utah for heavy-duty rehabilitation along with injured teammates Steve Nyman and Resi Stiegler at the US Ski Team's Center of Excellence in Park City.
With two years at the University of Vermont behind him, Biesemeyer is both thoughtful and articulate. Is he discouraged by his bad luck?
"Riding down the hill in a snowmobile right after my injury, for the first time I wondered 'Is this it? Can I continue? Do I have the drive?'
"I decided I have unfinished business. I believe I can be the best in the world."
Biesemeyer's injury was on a Wednesday. He flew back to the U.S. on Friday and the following Monday he had surgery at the well-known Steadman Clinic in Vail, Colorado. The next day, he was driven to Park City, where the rehab began. He came home to Keene on March 10.
Because of new surgical techniques for injuries like his, Beisemeyer expects the rehabilitation should morph into competition training over the next three months, and he expects to be back on skis in Europe in July. The first World Cup race for the speed skiers like him will be on Thanksgiving at Lake Louise, Alberta.
"BZ" was an early achiever. Growing up just a few miles from Whiteface, he started skiing at age 3 and entered his first race at 7. He was a Junior Olympics champion in 2002-03 and won the overall North American race series in 2010-11. He was 22 when he first raced in the World Cup. His first serious injury was a torn ACL, which forced him to miss the entire 2011-12 season. He also missed much of the 2013, 2014 and 2015 seasons with a variety of injuries. Biesemeyer knows rehab.
"I guess I have lost my status as a young up-and-comer," he acknowledges.
"Now it is the 'get-it-done' years."
Many American competitors have problems adjusting to long stays in Europe, where much of the winter competition is held. Not Beisemeyer. He is used to it. He is fluent in German and by now he finds the travel and the routine predictable.
Ski racers who specialize in the downhill and the Super G speed events tend to peak a little later than the technical event slalom racers. Prime time seems to be ages 28-37 and, if that is correct, Biesemeyer is right where he needs to be.
"I am coming into my own. I am confident with what I need to be successful. With all that I have been through, what I have learned to value most is my health. I am working to be in the best shape of any of the racers."
Over the years, Biesemeyer's best finish in a World Cup Race was 8th in a Super G. This season, even with the injury in the Olympics, he was 28th in the overall standings. In downhill his best finish so far has been 15th. He was 40th in the most recent season standings.
"Top 10 is where I need to be."
Biesemeyer has mentally committed to be around at least through the next Olympics, 2022 in Beijing. While he knows that what Americans focus on is the Olympics — no U.S. male skier won a medal in alpine events this year — he does have another favorite: The Hahnenkamm in Kitzbuhel, Austria, generally considered the king of all downhill events.
The race, held in January, is considered the most difficult on the yearly World Cup circuit with the steeps beginning right at the starting gate and the double fall line in the final drop just before the finish a hair-raiser, even the next day for visitors who can access the lower course.
It is tradition that the winner of the downhill each year gets to tend bar on Saturday night in the legendary Londoner in the center of Kitzbuhel.
No American has done this since Daron Rhalves in 2003. Biesemeyer would like to be next.
NEW LINEUP?
Each year ORDA provides financial sponsorships for several world class athletes with ties to Lake Placid. Who those athletes will be next year is a question mark right now. Of the five who were sponsored this year, only luger and Olympic silver medalist Chris Mazdzer from Saranac Lake has indicated plans to continue competing. Biathletes Lowell Bailey and Tim Burke have announced their retirements and the other two, past Olympic medalists Andrew Weibrecht and Jamie Greubel Poser, both in their 30s, are expected to announced their plans soon.
SLUSH CUP
This is goofy time at many ski areas where fun events and all comers competitions are scheduled. West Mountain will host two of these this Sunday with a three-person cardboard sled race followed by The Slush Cup pond skimming event. It all starts with a fun GS race. Registration begins at 8:30 AM.
CALL AHEAD TIME
While there is plenty of snow still on the ground and the Easter holiday is early this year, many ski areas, especially the small ones, close as soon as crowds dwindle. If you are planning to head to the hills, call ahead to make sure what is open.