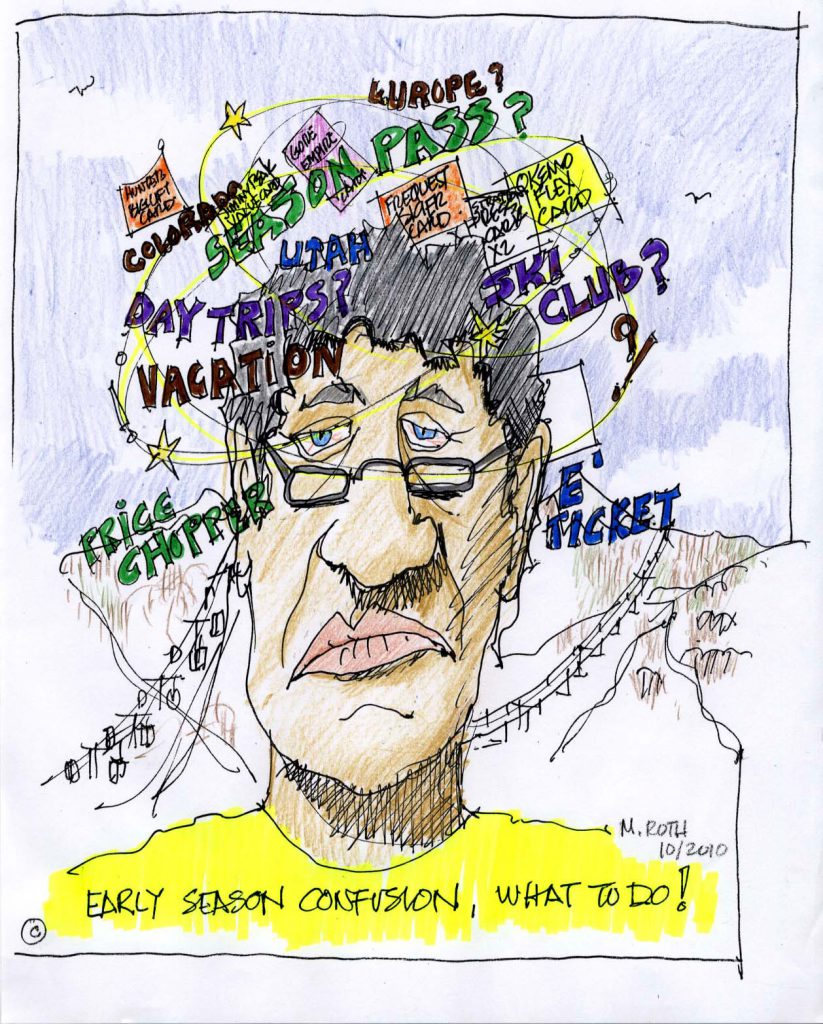 By Mike Roth, March 29, 2018. Originally published in timesunion.com
Every year about this time, ski areas start with their season passes for next year. In the past the decisions were hard to make but nowadays they are getting even tougher. Last year, I bought a senior pass at Gore and added on an offer for the max pass. That was the first year for the Max pass and it included quite a few ski areas in the northeast including Killington, Sugarloaf and Stratton. This allowed you to ski five times at each resort. There were many other ski areas around the USA included and had things worked out, I would, or could, or should have taken advantage of it but sadly did not. If you know you are going to go away for a ski vacation then looking into these passes is a good idea.
However the MAX pass is no more. Now there is the IKON pass of which Gore and Whiteface are not included at least not just yet???? Will they be, not sure but I doubt it?
The Gore season pass is still good at Whiteface, and Belleayre, they are offering free financing, in case you don't want to put all the money up front. You can use it for summer activities, food discounts and other valued perks (some of which have not been announced as yet).
Now Killington is really getting creative. Killington Resort is upgrading the concept of season passes with the launch of the brand new Beast 365 Year-Round Pass.
Killington Season Pass holders have always received MORE for their pass dollars—more days on snow, more acres of terrain and more months of snowmaking—and now the Beast 365 Year Round Pass gets you all four seasons of MORE. With the Beast 365 Pass you'll enjoy:• Unlimited access to Mountain Bike lifts and trails
• Unlimited Golf Course greens fees
• Unlimited Adventures Center access, including the new WreckTangle
• Unlimited winter access to the longest ski and snowboard season in the East
Even more exciting—with Beast 365 Pass, you never have to come up with the full season pass purchase price up front—pay just $99 a month for adults, $79/month for seniors and 29-below, and $69/month for youth with our subscription based payment structure. For adults, that's a savings of more than $500 over the purchase of an Unlimited Season Pass, Mountain Bike Season Pass, Adventure Center Season Pass and Golf Season Pass.
For me that would be a great pass if Killington was only a little closer. Going to ski for the day at Killington is my limit for a day trip. I don't see myself going there to play golf for 4 hours on a weekly basis. For anyone next door in Rutland, it's like having your own Country Club offering all season activities right from your home. Much like the Hermitage Club but you don't have to build a second home on the property.
The other nice thing is that you can pay monthly and it's not much more than what I pay monthly to keep the car clean. It looks like there is a chance that the car may be dirty for a while.
The following is info on the IKON Pass. There is also info the EPIC pass. These are great deals if you can get to these areas that are represented. It's always nice to have one near your home for day trip purposes.
The IKON pass is uniting North America's premier ski mountains by offering one pass with 23 destinations.
Alterra Mountain Company announces its 2018-2019 pass product, the Ikon Pass. North America's top mountain destinations have joined together to offer skiers and riders the Ikon Pass uniting 12 destinations from Alterra Mountain Company and 11 premier destination partners.
The IKON Pass gives skiers and riders the opportunity to access nearly 50,000 skiable acres of unique terrain across the continent, with pass privileges that range from full unlimited access to a set number of days that vary by destination. From a week-long vacation to unlimited days, the Ikon Pass was built with the guest in mind, to provide the best experience possible. With 23 destinations, in nine states and three Canadian provinces, the Ikon Pass is the gateway to a like-minded community, enduring memories, and the most iconic destinations in North America.
The Pass is a collaboration of seven industry leaders – Alterra Mountain Company, Aspen Skiing Company, Alta Ski Area, Boyne Resorts, Jackson Hole Mountain Resort, POWDR, and Snowbird. Each demonstrates integrity, character and independence that is reflected in their mountains and guests.
Alterra Mountain Company's destinations are Steamboat, Winter Park Resort, Squaw Valley Alpine Meadows, Mammoth Mountain, June Mountain, Big Bear Mountain Resort, Stratton, Snowshoe, Tremblant, Blue Mountain, Deer Valley Resort, and CMH Heli-Skiing & Summer Adventures.
Their partner destinations are Aspen Snowmass, Copper Mountain Resort, Eldora Mountain Resort, Jackson Hole Mountain Resort, Big Sky Resort, Killington Resort, Sunday River, Sugarloaf, Loon Mountain Resort, Alta Ski Area, and Snowbird.
"This is a collaboration of like-minded mountain destinations across North America where incredible terrain, unique character and local traditions are celebrated," said Erik Forsell, Chief Marketing Officer for Alterra Mountain Company. "We've curated a community of iconic destinations. We believe this new pass offers tremendous opportunity and appeal to mountain enthusiasts who have a passion for outdoor adventure."
The Pass will go on sale in the spring and additional information including access specifics by destination, price, sale date and other pass product details will be announced in the coming weeks. Please visit www.ikonpass.com. You should look at the offerings because many of the areas are unlimited access while others are limited.
Of course, if you're happy with the traditional season pass products you currently use, they still will have them available
The EPIC pass in turn has unlimited skiing at the following resorts and limited skiing at Vail, Beaver Creek, Whistler Blackcomb, Breckenridge, Park City, Keystone, Heavenly, Northstar Kirkwood, Stowe, Wilmot, Afton Alps, Mt Brighton, Perisher, Arapahoe Basin
Then 7 days at each of these resorts Telluride, Okemo, Mount Sunapee and Crested Butte
Then 7 days total at the following combined Fernie Alpine Resort, Kicking Horse Mountain Resort, Kimberley Alpine Resort, Nakiska Ski Area, Mont-Sainte Anne, and Stoneham
And then! With special arrangements you can ski European areas and also Japan.
This is all good especially if you are planning a ski trip or live near one of the ski areas offered but the eastern ski areas are limited.
On top of all this the Epic pass is offering for retired veterans and active duty personnel a $99 price and veterans for $499, there is also a Liberty pass for A basin and Keystone for $269
All of this sounds fantastic but sooooo confusing. So plan your trip accordingly if you plan to go for a vacation since the cost of skiing is getting up there for the daily window tariff.
Contact www.epicpass.com for more information.
Have fun trying to make a decision.