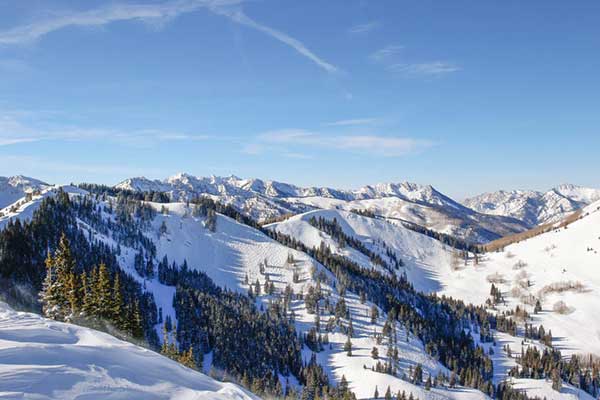 by Tamsin Venn, January 31, 2017, originally published in seniorsskiing.com
The choice of skiing at Park City, UT, just got more mind boggling. Last year, Vail Ski Resorts linked Park City and The Canyons via the Quicksilver gondola on Pine Cone Ridge. Voila: a ski area of 7,300 acres with 41 lifts, and 324 runs, currently the largest ski area in the U.S.—six miles across as the raven flies. That means a lot of choice for us seniors on the endless white folds of the Wasatch Range.
Plus, at only 7,000 feet at the base, the altitude is easier to adjust to than some higher Western ski resorts.
Park City trends toward broad slopes while The Canyons to narrower tree-lined trails. Many trails present drops off into tree skiing at various pitches. Big bowls with double black diamond labels offer fabulous powder skiing. Gulches and gulleys lead to further adventure. Currently Park City is having the snowiest January in about nine years, eight feet and counting.
The new eight-passenger Quicksilver Gondola has changed the game here. Adventurers can start at the Orange Bubble Express at The Canyons, say, ride the Red Pine Gondola to Timberline to Iron Mountain Express to Quicksilver Gondola. By the time they've skied over to Park City, they may want to take the free bus back.
By contrast, Park City skiers take the Crescent Express to reach The Canyons, and so have access via one lift to entertaining steep pitches they once had to hike to.
In 2015, Vail Resorts invested $50 million in upgrades at Park City. It transformed the sluggish Motherlode Express (good on a powder day) to a high-speed quad. It turned King Con, popular for rip groomers, into a six-pack. It also created two new trails at the Quicksilver Gondola mid-station, built Miner's Camp Restaurant there, added seating to on-mountain restaurants, and invested in snowmaking.
In Park City, the sports vibe is strong. Park City and Deer Valley hosted the 2002 Winter Olympics and the resorts have been drawing the youthful and ambitious ever since. Visit Utah Olympic Park to catch more Olympic fever, and visit the Alf Engen Ski History Museum. Admission is free.
Skiing does get crowded, and some say the best time to ski is during the Sundance Film Festival in January when everyone is indoors watching movies or on Sundays when many are in church. A new app, EpicMix Time, lets you track lift line wait times.  At key lift junctures, an LED board gives you that same traffic information.
The best way to ski Park City is to buy the Epic Pass, which lets you ski all Vail resorts. But the early season savings end in the fall. The best bet is to buy senior (65-plus) tickets online seven days in advance.
The White Pine Touring Nordic Center with 20 km of groomed XC track at the Pro Shop in the Hotel Park City is well worth the visit to stretch your limbs. On community appreciation day, many older fit speed demons constantly lapped us on skate skis. This center truly appreciates their seniors and offers free passes for those 65 and older.
The Facts
7, 300 acres
Base elevation 6,800 feet; summit 10,026 feet
330 trails, 41 lifts
Average annual snowfall: 355 inches
8 percent beginner, 48 percent intermediate, 44 percent expert