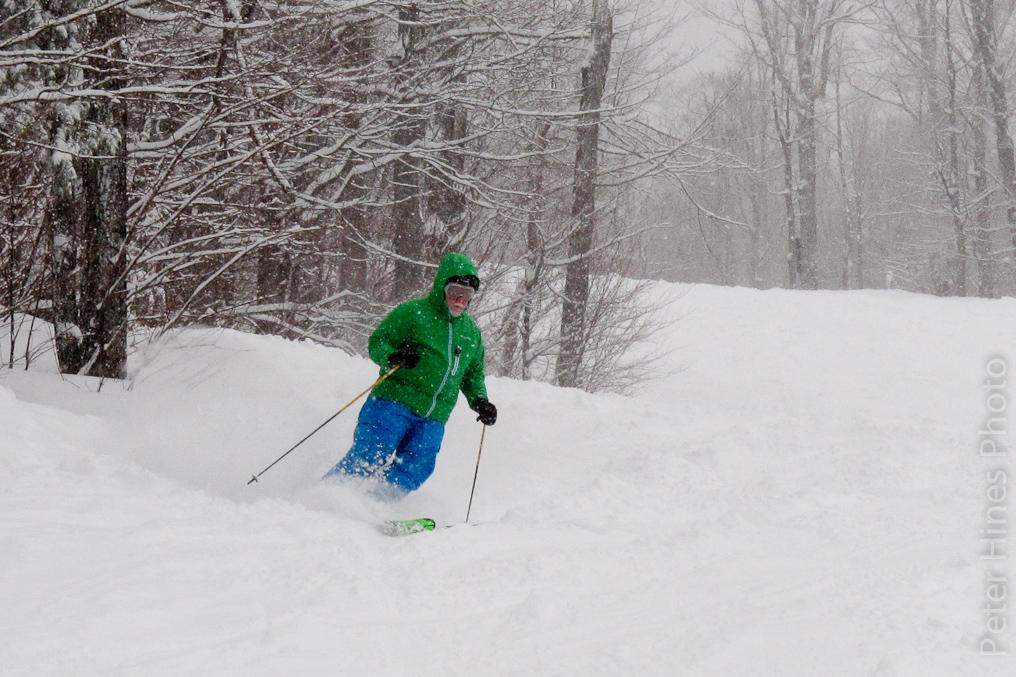 By Mike Roth, originally published in The Times Union, March 10, 2018
It doesn't happen here in the East very often but the 2 nor'easters that hit the New England Coast and caused havoc with traffic, trees falling on power lines, houses ,highways and cars did have a silver lining at many of the ski areas of New York, Vermont, Massachusetts , New Hampshire and Maine.
Although the percentage of us as skiers are a very small percentage of the entire population, we as die hard skiers welcome the snow and are going to make the best of it. As it turned out the latest storms has dumped 41" of fresh snow over the past 72 hours on to Mount Snow and slightly less at Killington which is further north in central Vermont. This is fantastic for mid-March.
Skiers look and long for powder days, many of us may have experienced those powder days out West where heavy snowfalls are plentiful but once in a while the East will get some substantial dumps and this is the opportunity. Thursday, March 8, 2018 at Mount snow there was 27" of snow that fell and a fellow skier (Mikey Malone) went there. He called me and had a hard time expressing how fantastic it was. Since then more snow has fallen and as I mentioned above as of today, Saturday, a total of 41 inches has covered the slopes.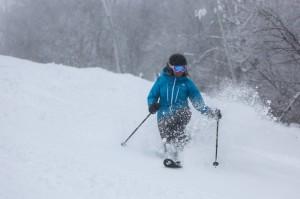 Now granted you need to know how to ski powder and one comment came back to me from my friend from who went to Mount Snow was that there was a line of people looking for a refund on their tickets because it wasn't groomed. I am assuming that there wasn't time to groom or the mountain only groomed a few trails and left the rest for the freshies. (Many ski areas do refund your lift ticket in the first hour if you don't like the conditions)
Jump to Friday March 9, 2018 – 24 hours after the storm, the roads are clear and we made a bee line to Killington. There were 5 of us and 1 of the 5 had not skied in 15 years. So I was concerned and wanted to make sure he was going to have a great time. We stayed on the easier trails and by his 2nd run and a little instruction he was back in the saddle. He was hurting a bit, not from falling but by being out of shape. I could hear his thighs screaming as he went down the trail since he had not used those skiing muscles in a long time, and was totally out of shape.
We had lunch at the Peak Lodge which is very pricey but still a great experience especially when it's a clear day and you can see the panorama for miles.There is a very varied menu, something to suit everyone. It does get crowded up there and it takes some jockeying around to get a table but you can get there early or late and have a better chance at getting seated quickly.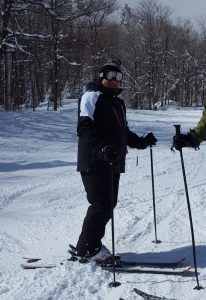 Oh yes, did I mention that the conditions were another 10. It's always great when you can hear the sounds of silence as the skis glide thru the snow and you hear nothing. Especially in the East when we are used to hearing a lot of scraping on the New England powder ( hard pack) . The only thing missing to add to the 10 was sunshine. . Actually there were parts of Killington Mountain that did get breaks of sun and then other parts that were in the clouds for a good part of the day. All in all it was a great day of skiing!
There's another storm coming our way so on Sunday, I am heading for Burke Mountain to try and catch some more fresh powder. I am crossing my fingers.
More to tell in my next blog entry.