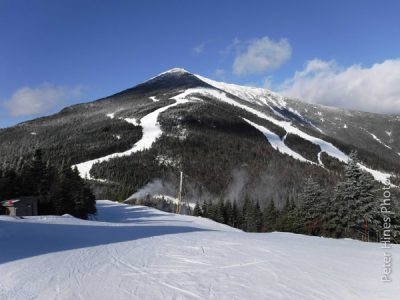 by Peter Hines, originally published in snowsportsna.com
New York's Governor, Andrew Cuomo (d) has proposed $28 Million in improvements at the three state ski areas, Whiteface, Gore and Belleayre that are operated by the New York State Olympic Regional Development Authority (ORDA).
The proposal also includes a pledge for the three areas to be powered by 100 percent renewal energy by 2030. Teaming with "The Climate Reality Project I AM PRO SNOW 100% Committed" campaign the initiative corresponds with the State's, clean energy standard that requires that half of all electricity used in New York come from renewable sources by 2030. It encourages ski resorts, towns, businesses and other mountain communities around the world to commit to being powered by 100-percent renewable energy by that time.
ORDA's managed ski resorts have taken steps towards becoming even more environmentally friendly and efficient in recent years by modernizing snowmaking systems, lifts, building systems and lighting.
Cuomo initially proposed $20 million for Gore and Whiteface. There were rumblings, "what about Belleayre?" The Town of Shandaken Board even passed a resolution that called on the state to provide funding this year for the planned expansion of the Belleayre Mountain Ski Center.
ORDA took over the operation of Belleayre a few years ago. An additional $8 million was added for Belleayre.
According to press releases from the Governor's Office the improvements will "expand economic growth and investment opportunities in the surrounding communities, leveraging up to $80 million in private investment and attract more visitors and make upstate New York's winter resorts competitive with other world resorts".
These proposals include some of the most significant improvements to ORDA facilities in 30 years.
The requests come in the form of what is called 30 day amendments. That's budget speak but in short it goes like this.
In early January the governor proposes an executive budget. That budget included $10 million for ORDA improvements. Within 30 days he can add additional proposals. During this time there is usually a series of press releases announcing new proposals.
Now before everyone starts waxing their skis and boards and sharpening their edges, these are proposals or budget requests. The funds have not been appropriated yet and are still subject to budget negotiations. There are several competing priorities for New York State tax dollars. With record increases in state aid for schools, uncertainty with the Affordable Care Act these proposals could easily be significantly reduced or fall by the wayside completely.
As a skier who has skied all three of these areas and probably skis Whiteface and Gore more than any other area, I welcome improvements. But let's pick these apart.
The upgrades at Whiteface include:
Expanding the Bear Den Lodge and adding a state-of-the-art learning center, bar and restaurant;
Expanding and renovating the Adirondack Base Lodge and parking lot;
Installing a line connecting the Bear Den Learning Center area to the Mid Station;
Building one of the longest zip lines in North America; and
Building the longest mountain coaster in the United States.
New High-Speed Gondola
Nordic and Cross Country skiing at the expansive summit of the mountain;
Improvements to the Discovery and Overlook Lodge
These improvements, if they go through, are substantial.
ORDA ski areas face some challenges when it comes to competing with other large areas in the northeast. Unlike destination resorts like Killington, Stratton and Okemo, to name a few, Belleayre, Gore and Whiteface do not, and probably will not have significant real estate development in close proximity. And perhaps they shouldn't. Of the three, only Whiteface, with being close to Lake Placid and all of the Olympic history that goes with it, could be termed a destination resort. Gore and Whiteface, that are in the perpetually protected Adirondack Park face challenges to nearby development.
The proposed Belleayre Resort on 739 acres of privately held land adjacent to the ski center holds some promise. It has been going through the development process for a number of years with some recent movement. However, litigation is likely to continue by the Catskill Heritage Alliance that is opposed to certain aspects of the plan.
The move to have ski resorts become year round facilities is a step in the right direction. Having significant infrastructure in place for less than six months of the year can be difficult to justify.
However, with essentially no growth in the number of skier and rider days nationally, it is unclear if the investment will pay off in the long run.
For more information, visit www.climaterealityproject.org or follow Climate Reality on Twitter at @ClimateReality