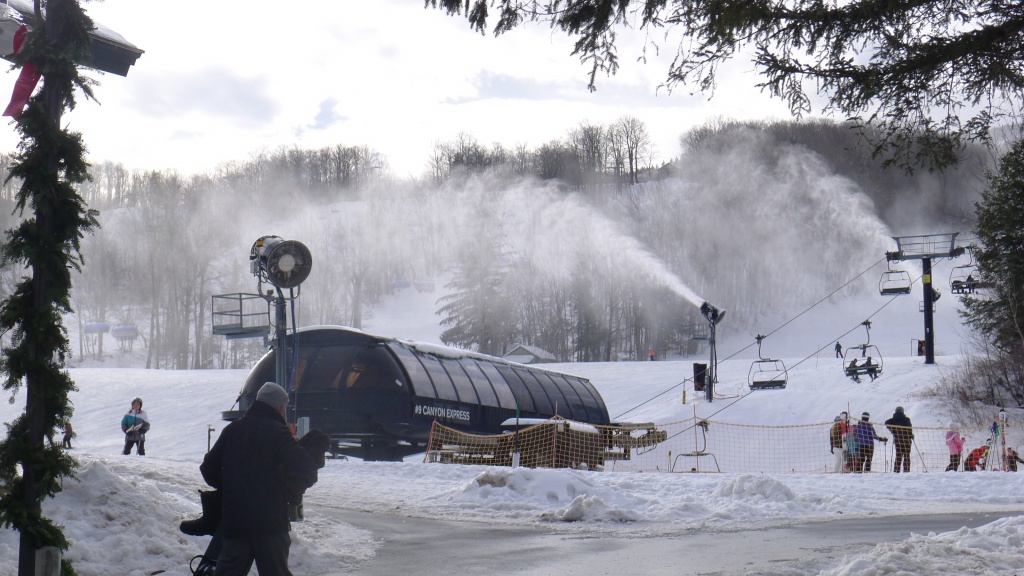 By Mike Roth, originally published in The Times Union, January 2, 2018
Usually I have waited till the holiday season to finish before I would venture out on the slopes. Don't get me wrong I have skied early in years past but as the years have passed, I have passed on those early season day. This year I ventures out before the holiday week to get some turns.
The first couple times were at Gore in New York State. It was mid week so there were no crowds and the skiing was remarkably good. Not 10's but plenty to grab onto and thank god for snow making with a little bit of Mother Nature's participation to help things along.
Then we decided to go to Mount Snow for my birthday, the day before Christmas. Normally that would be a good day to go since it was the day before the holiday but since the 24th came out on a Sunday it made 2 holiday weekends for the ski areas. So there was a chance of having a larger crowd?
When we arrived there was a pretty good crowd, but the lift system there can handle big crowds and their bubble chair had no longer than a 5 minute wait and they were not running the quad to the top that was next to it.
December is early skiing, there are usually limited trail available since the ski area snow making staff are trying to build base for the Christmas holiday onslaught. On the day we were there it had rained the day before in the capital district and instead of snow in the ski areas it rained. That night the groomers brought the ski surface back to a very ski-able corduroy and the snow guns were working hard to provide even more snow to the well covered trails.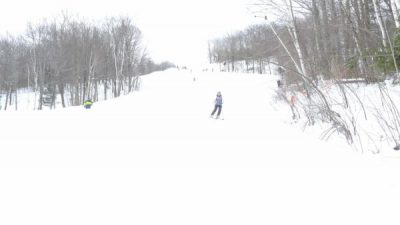 This past year Mount Snow completed the West Lake Water Project which drastically improved our snow-making capabilities. They also made a wider Long John trail, along with adding 220 new low-e technology snow-guns,
Mount Snow has already received well over a foot of fresh snow and the day after we were there another foot fell on Vermont just in time for a wonderful Christmas present.
Over at Carinthia you can see the beginning of construction on the new Carinthia Base Lodge, and the title of #1 park in the East given to them by Newschoolers.com and Transworld Snowboarding.It is amazing!
We headed over to Carinthia to check out the two giant jumps and watch some seriously talented skiers and riders take on the massive features! At the point we were there the superpipe had not been cut as yet but I am sure that they have completed it by now. There are mounds of snow that tower above you creating features that will amaze you. Even though terrain features are not my thing (I like to keep both skis on the ground at all times!) It is fun to watch these young skier and boarders launching themselves into the air over these tremendous jumps. My grandson Alex did enjoy them though.
We also took the Canyon Chair where the snowguns were pumping out snow everywhere and found the conditions there to be fantastic we took at least 4 runs over on that side of the mountain.
It turned out to be a great birthday present for myself to be able to hit the slopes and I am ready to get out there again.
January is learn to ski month, Mount Snow offering a brand new learning initiative that is both affordable and convenient for those looking to get into skiing and riding. The three-visit Peak Discovery Program, valid for ages 13 and older, is now available to purchase for $139 at all Northeast Peak Resorts, including Mount Snow, Vermont; Attitash, Wildcat & Crotched Mountains in New Hampshire; Hunter Mountain in New York; and Jack Frost Big Boulder in Pennsylvania.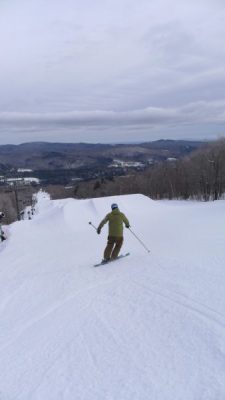 The Peak Discovery Program is different from many other learning programs in that it provides participating guests the opportunity to learn a new sport with the additional benefit of taking their lessons at multiple resort locations. For example, a guest could have their first two lessons at Mount Snow, and then follow up with a lesson at Hunter Mountain the following weekend.
For an additional low fee a Discovery Program participant will be given a membership card that affords them a group lesson, equipment rentals and helmet as well as a lift ticket for three (3) visits at any of the participating resorts.
Once a guest graduates from the three-lesson program they will have an opportunity to add three additional visits to their card for just $99 (I think?), allowing them to continue exploring.