This award is presented to the journalist whose work and spirit best captures the enthusiasm and dedication the late Mitch Kaplan, former NASJA Secretary–Treasurer and multiple Harold S. Hirsch Award–winner, brought to NASJA and to the coverage of snowsports. A gentleman and a gentle man, a fine journalist and a friend to all, he was especially interested in programs and activities for children. Nominees may be – but do not have to be – a member of NASJA, and the 250-500 word nomination can focus on a specific assignment or overall contributions to the public understanding and enjoyment of snowsports.
The Mitch Kaplan Award has a special meaning to members of NASJA. The award honors a journalist who best embodies NASJA's late colleague and friend, emulating Mitch's unwavering commitment to bring the joy of skiing to all and to give back to the sport that he loved so much.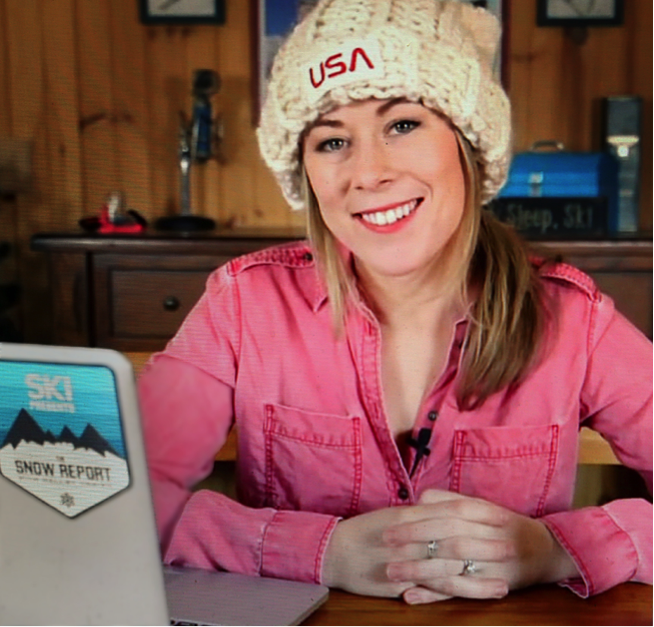 This year's winner is Halley O'Brien of New Jersey. It might be difficult to find a more fun-loving, irreverent, enthusiastic and funny ski and snowboard reporter in the video world than Halley O'Brien. This talented videographer, reporter, producer and proud Jersey gal hosts Ski Magazine's The Snow Report, with its far-reaching roster of participating ski resorts, SnoCountry Snapshot, the Weather Channel's Local Now and posts and musings on her website, halleyobrien.com.
After winning her university's local "Price Is Right" quiz show grand prize of a laptop, video cameras and money, she parlayed her good fortune and landed her first snowsports-related job as a snow reporter at Mt. Snow, Vermont. After a stint in PR, she formed Halley O'Brien Productions and then headed west "chasing her manifest destiny" to Boulder, Colorado, for a few years where she built-up a mini-video empire of snow reports and features, picking up several Emmy nominations along the way.
Her goal is to get as many people as possible talking about skiing and sliding while not getting too serious about it. Her website is not only about skiing/snowboarding but has gone every which way with analyses of awful-flavored jelly beans, funny Olympic moments and thoughts of football and fall.
Since she started her career, she likes to muse about the things she didn't know then that she knows now like "how early 4:30 am actually is, how much she would like coffee because of that and how bad she still is at making it."
Past Recipients:
2018 . . . . . . . . Heather Burke, theluxuryvacationguide.com, familyskitrips.com, snowpack.com
2017 . . . . . . . . Moira McCarthy, winter sports and travel editor of the Boston Herald
2016 . . . . . . . . Dan Egan, NASJA East, Degan Media, Extreme Skiing Pioneer
2015 . . . . . . . . Frida Waara, NASJA Midwest, Emmy Award Winner,and board member of the U.S. Ski and Snowboard Hall of Fame
2014 . . . . . . . . Ted Heck, Editor and Publisher of the Blue Book of European Ski Resorts
2013 . . . . . . . . Jules Older, NASJA West, 5 Time Harold S. Hirsch Award Winner
2012 . . . . . . . . Curtis Fong, "The Guy From Tahoe"
2011 . . . . . . . . Jim Cantore, Meteorologist, The Weather Channel