This award is presented to the journalist whose work and spirit best captures the enthusiasm and dedication the late Mitch Kaplan, former NASJA Secretary-Treasurer and multiple Harold S. Hirsch Award-winner, brought to NASJA and to the coverage of snowsports. A gentleman and a gentle man, a fine journalist and a friend to all, he was especially interested in programs and activities for children. Nominees may be – but do not have to be – a member of NASJA, and the 250-500 word nomination can focus on a specific assignment or overall contributions to the public understanding and enjoyment of snowsports.
2017 Winner: Moira McCarthy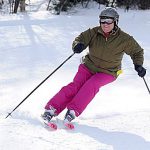 Moira McCarthy stood up on fifth grade career day and announced a bold goal: to make a lifetime living as a ski writer. Today, she has done just that. After working as a newspaper editor and crime reporter (she was AP Reporter of the year for helping solve a serial murder), she launched into the ski writer world as East Editor of Snow Country Magazine (still one of the best crews she has worked with, she says), and went on to be a contributing editor at SKI (where she still contributes regularly).
Today she is also the winter sports and travel editor of the Boston Herald (her three-page weekly section is one of the last in-print full ski sections in the nation), a contributing editor at Ski Area Management and Adventure Park Insider, and a does a weekly ski show on sports radio in Boston. "Skiing has, almost all my life, sustained me in every way," she says. "I love being a cheerleader for our world, and I love working to get everyone to get just why skiing and winter sports are so great." Her year-round two-page travel section in the Boston Herald allows her to share what goes on in the mountains all year long as well. In her "other life," Moira is an internationally-known advocate for Type 1 diabetes, on behalf of her daughter, Lauren, who has had Type 1 for nearly 20 years. She was named the JDRF International Volunteer of the Year, and has raised millions of dollars for a cure.
Past Recipients:
2016 . . . . . . . . Dan Egan, NASJA East, Degan Media, Extreme Skiing Pioneer
2015 . . . . . . . . Frida Waara, NASJA Midwest, Emmy Award Winner,and board member of the U.S. Ski and Snowboard Hall of Fame
2014 . . . . . . . . Ted Heck, Editor and Publisher of the Blue Book of European Ski Resorts
2013 . . . . . . . . Jules Older, NASJA West, 5 Time Harold S. Hirsch Award Winner
2012 . . . . . . . . Curtis Fong, "The Guy From Tahoe"
2011 . . . . . . . . Jim Cantore, Meteorologist, The Weather Channel