This award is presented to the journalist whose work and spirit best captures the enthusiasm and dedication the late Mitch Kaplan, former NASJA Secretary–Treasurer and multiple Harold S. Hirsch Award–winner, brought to NASJA and to the coverage of snowsports. A gentleman and a gentle man, a fine journalist and a friend to all, he was especially interested in programs and activities for children. Nominees may be – but do not have to be – a member of NASJA, and the 250-500 word nomination can focus on a specific assignment or overall contributions to the public understanding and enjoyment of snowsports.
The Mitch Kaplan Award has a special meaning to members of NASJA. The award honors a journalist who best embodies NASJA's late colleague and friend, emulating Mitch's unwavering commitment to bring the joy of skiing to all and to give back to the sport that he loved so much.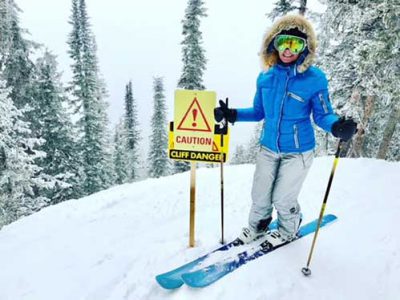 This year's winner is ski journalist Heather Burke of Kennebunkport, Maine. Heather, who learned to ski at the age of three, worked at her parents' Smugglers Notch ski lodge, and as a ski instructor before embarking on her writing career. She has been a ski journalist for over two decades, sampling some 170 ski areas and gathering many awards along the way including three NASJA Harold Hirsch Excellence in Journalism Awards. Freeskier Magazine bestowed a "Top 100 ski industry people to follow" honor and she has been named a Skea clothing ambassador.
Presently, Heather edits the websites theluxuryvacationguide.com, familyskitrips.com and snowpack.com and contributes to Boston.com. Her works have appeared in scores of outlets including Forbes Travel Guide, Snow Country and newspapers like the Boston Globe, Maine Sunday Telegram, the Montreal Gazette, Providence Journal and several others, focusing much of the time on family oriented resorts and kids' programs.
Past Recipients:
2017 . . . . . . . . Moira McCarthy, winter sports and travel editor of the Boston Herald
2016 . . . . . . . . Dan Egan, NASJA East, Degan Media, Extreme Skiing Pioneer
2015 . . . . . . . . Frida Waara, NASJA Midwest, Emmy Award Winner,and board member of the U.S. Ski and Snowboard Hall of Fame
2014 . . . . . . . . Ted Heck, Editor and Publisher of the Blue Book of European Ski Resorts
2013 . . . . . . . . Jules Older, NASJA West, 5 Time Harold S. Hirsch Award Winner
2012 . . . . . . . . Curtis Fong, "The Guy From Tahoe"
2011 . . . . . . . . Jim Cantore, Meteorologist, The Weather Channel