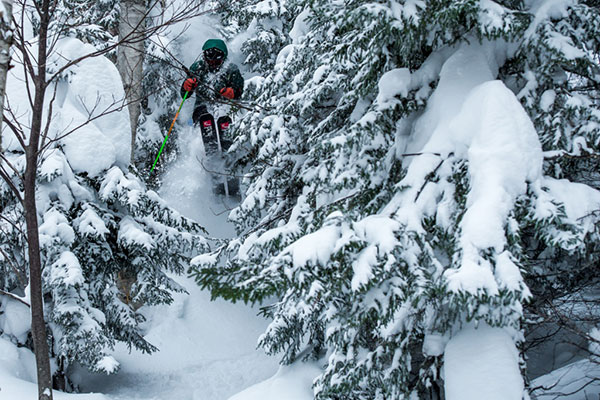 By Mike Roth, originally published in The Times Union, March 17, 2018
It certainly has not been great over the past couple months with the swings from storms to rain and warm weather. The timing for the weather wasn't favorable for the holiday periods; it's too bad there isn't a weather switch to control what's going to happen. Oh well, good old Mother Nature.
However, this month of March has been a fantastic month for skiing. Snow storms galore! As I mentioned in my last blog Mount snow over the last 7 days has had over 64" of fresh powder and it was still snowing as of Thursday night the 15th with a total of over 6' over the past 2 weeks. That broke their monthly record of snowfall and we are only half way through the month.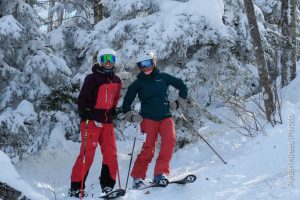 On last Sunday we went to Okemo for a half day of skiing, why only a half day? Well, we were on our way to Burke Mountain in Northern Vermont for Monday and Tuesday and it made sense to break up the 4 ½ hour trip with some skiing. As part of our route Okemo was on our way there and we can always expect good conditions there since they know how to make snow, groom and take care of the slopes. Of course fresh snowfall doesn't hurt either.
Sunday was no exception, although there was less fresh snow that Mount Snow, there was still plenty and the conditions were excellent. There was packed powder all over the mountain with the temperature just above freezing and sunshine. We started from the Jackson Gore area of the mountain where we found the lift line to be moderate, maybe 2 or 3 minutes all due to the hi speed lifts on the mountain. The first couple runs were packed powder and quite nice. Then something strange happened, not bad, but strange that it has never happened to me on the slopes while skiing. The sun started to warm up the left side of the trails and the snow changed from a packed powder to a consistency of a little bit heavier, like snow that was good for making snowballs. It certainly was skiable but it seemed to clump up together and felt funny under foot. Now on the other side of the slope (in the shade) it was still packed powder. So needless to say , we skied in the shade rather than in the sun quite the opposite of what we usually would do.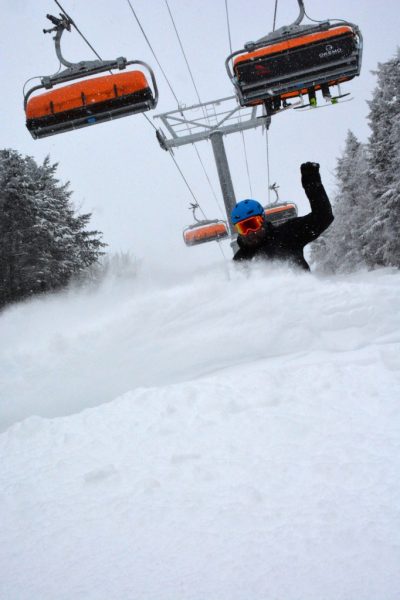 We skied the Solitude express where there is always fewer people and then headed over to the Sunburst Six just to see how busy it was. It certainly is the more popular side of the mountain. There was a good sized crowd but it's a six pack and maybe 5 minutes. On our way back towards Jackson Gore the crowds had thinned out due to lunch and the fact that Sunday afternoon people leave early to go home since many have a longer drive than a day trippers like us.
We covered a lot of vertical by 2 and then left for Burke Mountain. We arrived at Burke at 4:30. In all the years that I have skied Burke is a new one for me. That brings my total of ski areas that I have skied to 137 at last count.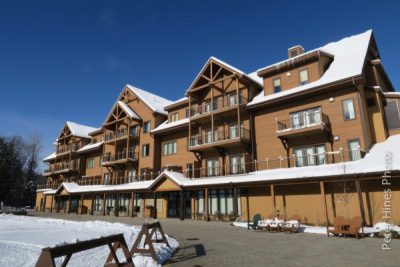 There is a new hotel built 1/3 of the way up the mountain. It separates the lower mountain where the green trails are and the upper mountain where the blues and black can be found. This arrangement worked well for them since on the upper mountain the Burke Academy students train and are able to ski at top speeds without having to contend with the beginning skiers and visa versa. The Academy is where are many aspiring Olympic skiers go to school. As a matter of fact, this is where Mikaela Shiffrin attended school.
The trail conditions on Monday were all packed powder and it lasted all day long. There are combinations of wide open trails that you can really bomb (not me!).
And beautiful true old New England narrow winding trails like Powder Horn to a short mogul trail named Dipper Doodle off that trail then back to Powder horn for the run out to the lift. This trail has been put down as one of my favorites to ski and we skied it at least 5 times. There are others like East bowl that's similar in nature but the walk to it and out of isn't worth the effort. The mountain has a great variety of runs which is serviced by the Mid Burke Express Quad lift and the beginner area from the base is service by another express lift.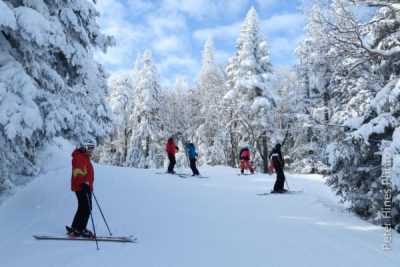 Overall the mountain has a vertical of 2011' with 37 trails, 14 glades and 3 terrain parks there is a lot to ski. I would definitely ski there again and I am sure there are many ski and stay specials offered, as well as a 3 for one deal on Wednesday's non-holiday. The overall price structure is very reasonable. All which you can check out on skiburke.com