Open to NASJA press members, the Harold S. Hirsch Awards recognize excellence involving snowsports in print, electronic and visual formats, emphasizing journalistic creativity and editorial or artistic content. Award recipients are chosen by a panel of judges with the highest credentials in the fields of journalism, writing, education, snowsports and photography. The concept for these awards came after the 1960 Winter Olympics from Harold S. Hirsch, ski clothing pioneer and founder of White Stag, to promote professionalism in winter sports coverage.
Dino Vournas – Photography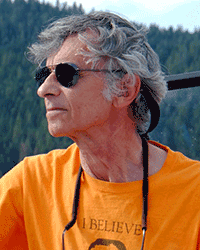 Dino, a NASJA member for over 40 years, started his career as a photojournalist and ski and travel writer in the early 1970s with the Hayward Daily Review in California. He then had stints at the Oakland Tribune and the San Francisco Examiner as chief photographer. For 10 years he was a freelancer for the Associated Press, mainly shooting pro and collegiate sports and writing ski travel stories for the Tampa Tribune. Presently he is freelancing for local municipalities and the Department of Energy, and writing travel stories for the Bay Area News Group in the San Francisco Bay Area. This is his fourth Hirsch Award, 3 for photography and one for newspaper feature writing.
Judges' comments about Dino's work:
"Vournas' images capture peak action while including dramatic and beautiful landscapes. The variety of photos entered went beyond straightforward documentation of an event."
"The two great scenic shots show the dramatic nature of skiing and riding while showing two different environments. The two pictures of the families enjoying sledding show the sheer joy sliding can bring."
Wendy Clinch – Blogs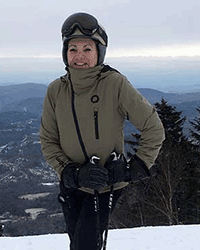 Wendy is a two-time winner of the North American Ski Journalists Association's Harold Hirsch Award for Best Ski Blog (2016 and 2017). She is the owner of TheSkiDiva.com, the leading online community for women skiers, which she founded in 2006. TheSkiDiva consists of a blog, where Wendy writes on a variety of topics related to skiing and the outdoors, and a forum where women can discuss ski gear, technique, resorts, and more. Wendy graduated from the S.I. Newhouse School of Communications at Syracuse University, and is also the author of two ski novels: DOUBLE BLACK: A SKI DIVA MYSTERY (Minotaur, 2010) and FADE TO WHITE: A SKI DIVA MYSTERY (Minotaur, 2011). She lives in Plymouth, Vermont, with her husband, noted author Jon Clinch.
Judges' comments about Wendy's work:
"Wendy Clinch, a former Hirsch Award winner and braintrust behind The Ski Diva, knows three things: her audience; skiing; and the best ways to integrate the two. A solid, prolific writer, Clinch clearly devotes significant time to the original researching and reporting of each weekly column, something that sets her apart in the genre. Whether she's profiling the women who make it to the top of today's skiing circles or introducing us to the latest in women's basewear, Clinch does her homework. She doesn't just tell us that Andie's Outdoor Undies are great for women; she tries them out and explains the intricacies. Trust me, her women readers wanted to know. Clinch should be the premier go-to writer for women who ski – and for the men who know women who ski."
"Solid writing that entertains and informs. Interestingly, the post I most enjoyed reading was the interview with Laura Davies. The others are good, with relevant information appropriate to her audience."
Moira McCarthy – Columns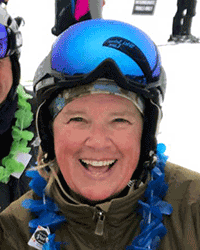 Growing up, Moira was constantly counting the days or hours — depending on the time of year — until she'd get out skiing. "I knew from a very young age, it was my place," she said. A marginally competitive freestyle skier, Moira was a champion, however, at making friends on the slopes, putting in full ski days and just plain savoring it all. Writing for Snow Country Magazine, SKI, Ski Area Management and the Boston Herald, she said, is surreal.
"That I get to do what I love as my career is just incredible," she said. "I am thankful for every single day." When she's not skiing or writing about it, McCarthy can be found running, playing tennis, hanging out at the beach or plotting her new granddaughter Molly's ski future.
Judges' Comments about Moira's work:
"It was a very tough choice among three fine columnists. Moira gets the No. 1 nod thanks to her breezy, conversational writing style and excellent practical advice. She relates to her readers as if they are friends, offering well-reasoned observations that apply to skiers of all levels. How nice to hear someone remind us to slow down and enjoy some lovely green trails! Moira's columns made me want to ski with her—and then have a coffee and talk about it."
Feature Writing – Lisa Ballard
Lisa has won 3 Emmys for TV production and hosting; 3 Harold Hirsch Awards, TV; numerous awards for TV, photos, writing from the Outdoor Writers Association of America. She has been a freelance ski journalist since 1991 and is a past president, OWAA. Her media outlets include SkiRacing.com, NSAA Journal, Vermont Sports, PSIA's 32 Degrees.
Judges' comments about Lisa's work:
A good mix of topics in this portfolio, highlighted by a very interesting story about mapping ski areas. As the writer says, a ski map is something we all take for granted—yet she found a fascinating man behind that art and brought his work to life for her readers. Her colorful descriptions of Vail, interwoven with her personal history at the resort, made for a fresh take on a familiar place. And the detail in her piece about Austria gave readers a strong feel for the thrill of the skiing and the charm of an exotic destination.