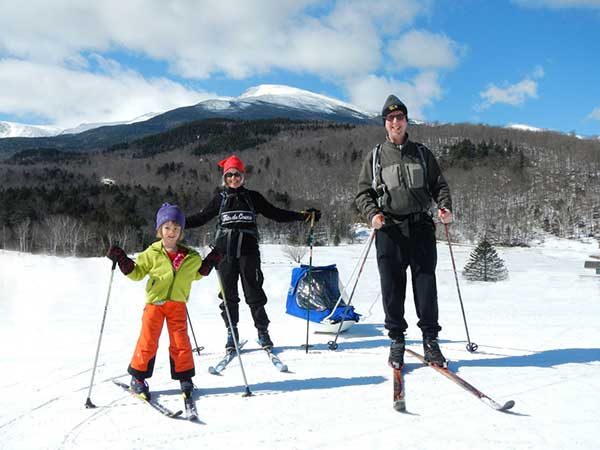 by Roger Lohr, originally published in xcskiresorts.com, December 19, 2016 
Plan to gather up the kids and head to the hills during the school breaks next winter. No need to head to warmer climes – winter can be snowy, yet mild, and perfect for a family vacation with plenty of activities such as cross-country (XC) skiing and snowshoeing. According to the experts, who regularly update XCSkiResorts.com, the nation's top XC ski resorts are exceedingly family-friendly with lots to enjoy together both on the snow and off. What families want and need is exactly what an xc ski vacation delivers: multi-generational participation, quality time and shared memories.
There are special touches such as talent shows, child-friendly classes and family style meals to help your XC ski and snowshoe vacation become the perfect memorable getaway with your loved ones. Families can find resorts that offer the perfect combination of carefree atmosphere and picture-perfect views together with beautiful lodging, family dining, and expertly groomed trails and learn how they can enjoy the winter outdoors together. The following are top suggestions from the site:
EAST
Lapland Lake Ski & Vacation Center in Northville, NY has nightly bonfires on the weekends and the kids love to play Napa Kikku, which is a Finnish game on ice with a sled and a pole. Kicksleds, tubing, ice skating and parents use pulk sleds to pull the kids along the xc ski trails.
Pineland Farms in New Gloucester, ME has family programs to engage kids and adults with outdoors and educational activities such as XC skiing, mountain biking, equestrian, exploring life and animals on the farm, apple cider making, butter making, milking a cow, carving pumpkins, and much more.
Trapp Family Lodge in Stowe, VT is one of the most famous family resorts where the hills come alive with the "Sound of Music." In the Green Mountains of Vermont, Trapp Family Lodge is a paradise for families with a fitness center, an indoor pool and the Mountain Kids Club provides playtime, craft time and movies for kids.
Smuggler's Notch Resort in Smuggler's Notch, VT has a dynamic lineup of family programs with 1,000 acres for alpine skiers and snowboarders, teen centers, kids camps and FunZone play area, resort village with shops and restaurants, condo lodging, and walk-to free shuttles. There's xc ski and snowshoe trails, winter walking, ice skating, and more. Recognition for family focus has been awarded by numerous magazines.
CENTRAL
Maplelag Resort in Callaway, Minnesota is run by a 3-generation extended family and this resort has families coming back year after year. They serve family style meals and host a talent/variety show, which is a big hit for families. The state's largest hot tub, famous bottomless cookie jars, sledding, ice skating, and XC ski/snowshoe trails combine to make this one of the most popular family destinations.
As the name implies, Palmquist Farm in Brantwood, WI is an XC ski center on a farm that offers kid-friendly animals such as horses and a dog. There are sleds to use on sliding hills and ice skating pond, plus horse-drawn sleigh rides and kids rental ski equipment. They say that a visit to Palmquist's is like coming home to Grandma's house.
WEST
Devil's Thumb Ranch Resort & Spa in Tabernash, CO has outdoor adventures from XC skiing and snowshoeing to Zipline, horseback riding and laser biathlon. There are "cowpoke camps" for overnight guests with kids in half and full day programs, heated pool, movie nights, game room, and more.
Lone Mountain Ranch in Big Sky, MT has programs for outdoor youth adventures that include animal tracking, snowshoeing, tubing, snow kickball, obstacle Olympics, finger painting, scavenger hunts and ice cream socials. Parents will love the cuisine, massage and xc skiing on picturesque trails.
You'll be amazed by the giant trees in Sequoia National Park and Monument near the Montecito-Sequoia Lodge in Kings Canyon National Park, CA. There is a daylong program for children, which has a break for the family to join together during lunch. The kids build igloos, go tubing and XC skiing or snowshoeing on nature hikes to see and learn about animal tracks. At night there is a dance, karaoke and bingo.