Awarded to an individual or individuals who have made a significant contribution to the advancement of snowsports in North America, either achieved with a single, defining accomplishment or through a lifetime of snowsports endeavors. The award is named in memory of the first president of the U.S. Ski Writers Association, the predecessor of NASJA.
2017 Winner: Jason Levinthal – twin-tip ski design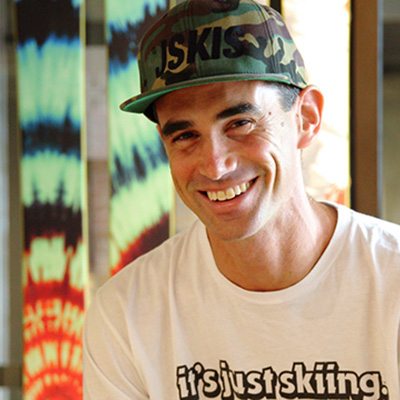 It's hard to imagine anyone being nominated for NASJA's highest honor while still a relatively young man in his mid-40's but Albany, New York native Jason Levinthal deserves just that. While attending State University of New York at Buffalo, he realized that skiing had not evolved at the same pace as snowboarding and decided that contemporary ski designs were limiting what great athletes could accomplish. So, as a school project, his solution was to design and build the first twin-tip ski, essentially a mini-snowboard for each foot. In 1996, starting in his parents' garage, a la Steve Jobs, he began hand-building his Line Skis, ushering in a new era of half-pipe skiing, the ability of trick-skiing backwards and forwards, and the creation of a new X-Games category. Competitive success was immediate and his sales grew exponentially and paved the way for niche ski brands to flourish. In many cases, major manufacturers mimicked his concepts and designs. K2 Skis took notice and purchased his company in 2006, but left Jason in creative command. Three years ago, Jason left Line to start J Skis, armed with just a laptop and a place to rest it. He plans to outsource all phases of ski production, slash development time, produce very limited quantities and to personally sign each pair of skis. With the help of a collection of innovative and entrepreneurial friends, he hopes to build the best Eastern, Western, powder, terrain park, etc. ski and no one in their right mind should bet against him.
Carson White Snowsports Achievement Award Winner2016 . . . . . . . . James Niehues – Artist, Ski Resort Mapmaker
Carson White Golden Quill Award Winners
1968 . . . . . . . . Dr. Merritt H. Styles, U.S. Ski Association
1969 . . . . . . . . Ralph "Doc" DesRoches, Ski Industries of America
1970 . . . . . . . . Robert P. Beattie, International Ski Racers Assn.
1971 . . . . . . . . Harold S. Hirsch, Ski Industries of America
1972 . . . . . . . . Dorice Taylor, Sun Valley, ID
1973 . . . . . . . . Willy Schaeffler, U.S. Ski Association
1974 . . . . . . . . Fred Pabst Jr., Bromley Mountain, VT
1975 . . . . . . . . Robert Parker, Vail Associates, CO
1976 . . . . . . . . Rudy Mattesich, Ski Touring Council
1977 . . . . . . . . Lowell Thomas, Pawling, NY
1978 . . . . . . . . Dave McCoy, Mammoth Mountain, CA
1979 . . . . . . . . Tony Wise, Mt. Telemark, WI
1980 . . . . . . . . Cliff Taylor, Hogback Mountain, VT
1981 . . . . . . . . Werner Schuster, Alpine Meadows, CA
1982 . . . . . . . . Hal O'Leary, Winter Park, CO
1983 . . . . . . . . Averell Harriman, Sun Valley, ID
1984 . . . . . . . . Sepp Ruschp, Mt. Mansfield-Stowe, VT
1985 . . . . . . . . Warren Miller, Warren Miller Productions
1986 . . . . . . . . Israel and Orville Slutzky, Hunter Mountain, NY
1987 . . . . . . . . Tom Corcoran, Waterville Valley, NY
1988 . . . . . . . . Lloyd T. Lambert, 70+ Ski Club, Ballston Spa, NY
1989 . . . . . . . . Norbert Fischer, Disabled skiing advocate
Doug Pfeiffer, Freestyle skiing pioneer
1990 . . . . . . . . Dev Jennings, Ski New England
Bill Lash, Professional Ski Instructors of America
1991 . . . . . . . . Jim Ward, U.S. Ski Hall of Fame
1992 . . . . . . . . Stein Eriksen, Deer Valley Ski Resort, UT
1993 . . . . . . . . Nancy Greene-Raine, Canadian Olympian
1994 . . . . . . . . John Fry, NASTAR and Snow Country founder
1995 . . . . . . . . Dick Durrance, "The Man on the Medal"
1996 . . . . . . . . Jerry Groswold, Winter Park, CO
1997 . . . . . . . . Jake Burton Carpenter, Snowboard pioneer
Tom Sims, Snowboard pioneer
1998 . . . . . . . . Stephen Bradley, Father of snow grooming
1999 . . . . . . . . Bernie Weichsel, Snow show producer
2000 . . . . . . . . Ned Gillette, Snowsports adventurer
2001 . . . . . . . . Pete Seibert, Vail founder
2002 . . . . . . . . Jeannie Thoren, Women's ski equipment innovator
2003 . . . . . . . . Ernie and Rhoda Blake, Taos Ski Valley, NM
2004 . . . . . . . . Jerry Simon and Harry Leonard, Ski show promoters
2005 . . . . . . . . Jerry Nunn, Ski patroller
2006 . . . . . . . . Carl Ettlinger, Vermont Ski Safety Research
2007 . . . . . . . . David Ingemie, Ski Industries of America
2008 . . . . . . . . Art Bowles, Breckenridge Resort, CO
2009 . . . . . . . . Stu Campbell, Ski instructor, racer & journalist
2010 . . . . . . . . Mel Dalebout, Ski boot pioneer
2011 . . . . . . . . Greg Stump, Film maker
2012 . . . . . . . . Joe Cushing, SNO Engineering
2013 . . . . . . . . Michael Berry, President, National Ski Areas Association
2014 . . . . . . . . Bill Marolt, President and CEO of the U.S. Ski and Snowboard Association (USSA)