Annually since 1969, NASJA has recognized innovators and pioneers who have made a significant and lasting contribution to North American winter sports, with its highest honor, the Carson White Snowsports Achievement Award. The award is named in memory of the first president of the U.S. Ski Writers Association, the predecessor of NASJA.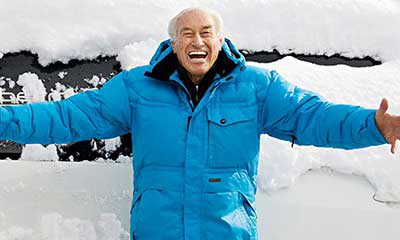 The 2018 recipient is Klaus Obermeyer of Aspen, Colorado. Mr. Obermeyer enhances a group of winners that includes Lowell Thomas, Averell Harriman, Warren Miller, Stein Eriksen, Pete Siebert, Nancy Greene, Dick Durrance and many other winter sports luminaries.
Klaus Obermeyer is the epitome of what the award, named after our organization's first president, is all about. Born in Oberstaufen, Bavaria, Germany in 1919, he soon fabricated his own skis from an orange crate at the age of 3, beginning his lifetime love of the sport. In 1947, he emigrated to Aspen becoming a ski instructor at Aspen Mountain.
Using his experience gained on-mountain, he started Sport Obermeyer in 1950 to develop clothing and accessories for enhancing the experience of skiing and mountain adventure. He created one of the first down ski parkas, using his own down bed comforter as the raw material.
Innovations and inventions followed in rapid succession. Klaus had a hand in pioneering mirrored sunglasses, high-altitude suntan lotion, hard-shell ski boots with a soft inner core, turtlenecks and nylon wind shirts. In later years, he came up with double-lens goggles, auto-canting ski boots, soft-shell jackets and breathable fabrics, all the while endeavoring to make a fashion statement for all of his skiwear.
At 98 years old, Klaus is an amazing physical specimen as well. He goes to work 5 days a week, swims daily, practices Aikido martial arts, plays tennis and still skis, only making a concession to ski in good weather. Mr. Obermeyer is a 1997 inductee of the U.S. National Ski and Snowboard Hall of Fame and the 1995 recipient of NASJA's Lifetime Achievement Award.
Carson White Golden Quill Award Winners
1968 . . . . . . . . Dr. Merritt H. Styles, U.S. Ski Association
1969 . . . . . . . . Ralph "Doc" DesRoches, Ski Industries of America
1970 . . . . . . . . Robert P. Beattie, International Ski Racers Assn.
1971 . . . . . . . . Harold S. Hirsch, Ski Industries of America
1972 . . . . . . . . Dorice Taylor, Sun Valley, ID
1973 . . . . . . . . Willy Schaeffler, U.S. Ski Association
1974 . . . . . . . . Fred Pabst Jr., Bromley Mountain, VT
1975 . . . . . . . . Robert Parker, Vail Associates, CO
1976 . . . . . . . . Rudy Mattesich, Ski Touring Council
1977 . . . . . . . . Lowell Thomas, Pawling, NY
1978 . . . . . . . . Dave McCoy, Mammoth Mountain, CA
1979 . . . . . . . . Tony Wise, Mt. Telemark, WI
1980 . . . . . . . . Cliff Taylor, Hogback Mountain, VT
1981 . . . . . . . . Werner Schuster, Alpine Meadows, CA
1982 . . . . . . . . Hal O'Leary, Winter Park, CO
1983 . . . . . . . . Averell Harriman, Sun Valley, ID
1984 . . . . . . . . Sepp Ruschp, Mt. Mansfield-Stowe, VT
1985 . . . . . . . . Warren Miller, Warren Miller Productions
1986 . . . . . . . . Israel and Orville Slutzky, Hunter Mountain, NY
1987 . . . . . . . . Tom Corcoran, Waterville Valley, NY
1988 . . . . . . . . Lloyd T. Lambert, 70+ Ski Club, Ballston Spa, NY
1989 . . . . . . . . Norbert Fischer, Disabled skiing advocate
Doug Pfeiffer, Freestyle skiing pioneer
1990 . . . . . . . . Dev Jennings, Ski New England
Bill Lash, Professional Ski Instructors of America
1991 . . . . . . . . Jim Ward, U.S. Ski Hall of Fame
1992 . . . . . . . . Stein Eriksen, Deer Valley Ski Resort, UT
1993 . . . . . . . . Nancy Greene-Raine, Canadian Olympian
1994 . . . . . . . . John Fry, NASTAR and Snow Country founder
1995 . . . . . . . . Dick Durrance, "The Man on the Medal"
1996 . . . . . . . . Jerry Groswold, Winter Park, CO
1997 . . . . . . . . Jake Burton Carpenter, Snowboard pioneer
Tom Sims, Snowboard pioneer
1998 . . . . . . . . Stephen Bradley, Father of snow grooming
1999 . . . . . . . . Bernie Weichsel, Snow show producer
2000 . . . . . . . . Ned Gillette, Snowsports adventurer
2001 . . . . . . . . Pete Seibert, Vail founder
2002 . . . . . . . . Jeannie Thoren, Women's ski equipment innovator
2003 . . . . . . . . Ernie and Rhoda Blake, Taos Ski Valley, NM
2004 . . . . . . . . Jerry Simon and Harry Leonard, Ski show promoters
2005 . . . . . . . . Jerry Nunn, Ski patroller
2006 . . . . . . . . Carl Ettlinger, Vermont Ski Safety Research
2007 . . . . . . . . David Ingemie, Ski Industries of America
2008 . . . . . . . . Art Bowles, Breckenridge Resort, CO
2009 . . . . . . . . Stu Campbell, Ski instructor, racer & journalist
2010 . . . . . . . . Mel Dalebout, Ski boot pioneer
2011 . . . . . . . . Greg Stump, Film maker
2012 . . . . . . . . Joe Cushing, SNO Engineering
2013 . . . . . . . . Michael Berry, President, National Ski Areas Association
2014 . . . . . . . . Bill Marolt, President and CEO of the U.S. Ski and Snowboard Association (USSA)
2016 . . . . . . . . James Niehues, Artist, Ski Resort Mapmaker
2017 . . . . . . . . Jason Levinthal, Twin-tip Ski Designer