by Jonathan Wiesel, originally published in skitrax.com, February 14, 2018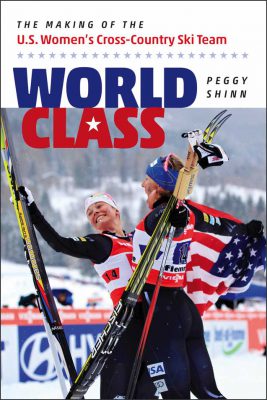 February 14, 2018 – The title is World Class: The Making of the U.S. Women's Cross-Country Ski Team. Written by Peggy Shinn, a longtime contributor to TEAMUSA.org, it's a marvel, and I now have a bunch of new heroes – or, mostly, heroines.
You're going to ask: What's the book about? This is the story of Kikkan Randall, Liz Stephen, Holly Brooks, Jessie Diggins, Ida Sargent, Sadie Bjornsen, Sophie Caldwell, Rosie Brennan, and coach Matt Whitcomb—and how they created the perfect team. It's the evolution of the Team, from way back through until 2017. In a way, it's about how eight athletes have used teamwork, respect and affection to compensate for not growing up in countries where Nordic skiing is a way of life.
Don't think of this as a quick page-turner, like some novels on The New York Times Best Sellers list. Instead, take your time, read the whole dang thing, sentence by sentence. It's authoritative, fun, perceptive, well-researched and very well-written – drawing you in by telling stories and painting pictures of people and their times.
There are many intriguing facts contained within (important because they provide context and connectivity to the rise of the Team, not just names and dates) and great dabs of history, including interviews with iconic figures such as John Caldwell, Alison Owen (now Bradley), Marty Hall and Trina Hosmer (still going strong at World Masters races), but, most of all, there is a series of fascinating insights into remarkable, endearing people, skiers and coaches, whose passion for their sport has created a unique rapport. They're carrying this strength into the 2018 Olympics.
Like most longtime Nordic skiers in the U.S. and Canada, I could offer up a litany of vital innovations that have helped to popularize our sport and create a small-but-vigorous industry: track-set trails, fibreglass skis, waxless bases, stretch fabrics, skate technique and equipment, and so on.
For American skiers' accomplishments, I'd put Bill Koch's 1976 Olympic silver medal on this same level as a galvanic event, as influential as any of those technological introductions. And right now, we may be at a new tipping point that can propel the sport – particularly inspiring women to try it – to a new level of recognition in North America.
I'm hoping – millions of us are hoping! – that the timing can't get better than this: the release of an intense, absorbing book about extraordinary people and their skiing in the 2018 Pyeongchang Olympics. (The book's publication date, Feb. 6, is, of course, mighty smart business.)
I keep mentioning "people." Many in the Nordic world now think of them by their first names: Kikkan (five-foot, four-inch trailblazer, catalyst, team leader, iconoclast . . .), Jessie, Liz, Holly, Rosie, Ida, Sadie and Sophie. They're all remarkable athletes, while also being just fantastic people.
Coaches are a big part of the picture, particularly Women's Team Coach Matt Whitcomb – building teamwork, caring, and not just evaluating technique and doing logistical work.
World Class doesn't simply give you rare insight into how the Team works – it's like being adopted into a particularly close-knit family.
Order here.