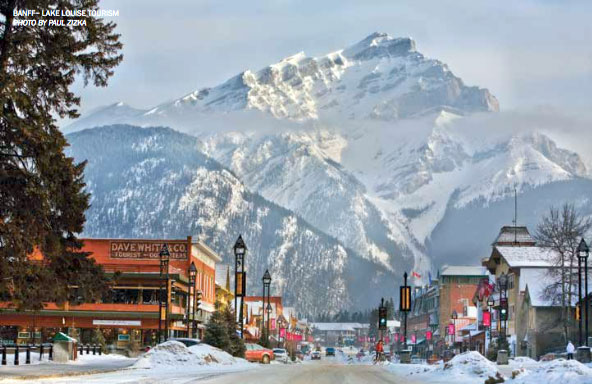 By Rich Silver, originally published in Slopeside Magazine
It seems that everyone who has been to the Banff-Lake Louise region of the Canadian Rockies says it's the most beautiful place they've ever skied. Now, after experiencing Banff 's breathtaking landscape first hand, I'm a believer.
Three ski areas actually lie within the bound- aries of the Banff National Park, a UNESCO World Heritage Site, where dedication to pre- serving the environment provides unspoiled natural beauty, spectacular views and nearly 8000 acres of world class skiing.
The Lake Louise ski area with its long frontside cruisers and easily accessible backside powder bowls, is as good as it gets. It has only eight lifts covering its massive terrain yet it's surprisingly easy to navigate. But, just when you think you've tackled it all there's another fluffy snowfield over the ridge, or the moonlike Rock Garden to test your ability. Here's a special ski tip: contact Lake Louise ski area and inquire if they can hook you up with longtime local, Sandy Best, to take a couple of runs in "Sandy's secret stashes."
At the end of a long day on the mountain, the Fairmont Chateau Lake Louise is the perfect spot to relax, unwind and relish the jaw- dropping views overlooking the lake.
Alberta is known for its beef and bison, so for dinner, why not try some regionally inspired and locally sourced meats and fish at The Deer Lodge, just a short walk from the hotel. No visit to the area would be complete without a stop at The Post Hotel, an elegant yet intimate, old world luxury hotel where Andre and George Schwarz welcome guests with "good food, good wine and good company." Each year the brothers host the annual "Wine Summit," featuring their incredible 30,000-bottle wine cellar, a must for oenophiles.
The Sunshine Village ski area, sitting right along the Continental Divide, is just a 15-minute ride from the town of Banff. It boasts a seven-month-long season, virtu- ally no lift lines, the longest verti- cal drop in the Canadian Rockies and 3300 acres of light dry powder with terrain for every ability level from beginner to expert. Tree ski- ers will love it and extreme skiers can test themselves on the thrilling Delirium Dive. Hop on the Conti- nental Divide chairlift and you can even ski in two provinces, Alberta and British Columbia, on the very same run. The eco-conscious Sun- shine Village Hotel also has one of the most unique hotel check-in experiences. Drive up, park your car, drop your luggage and take the gondola up to the hotel where your luggage will be waiting in your room. Change into ski gear, click into your skis and off you go, right out the front door. The cozy Chimney Corner Lounge provides a perfect slopeside après ski spot.